Casio just announced the 12-megapixel, EXILIM Hi-Zoom EX-H5. This latest compact, point and shoot camera packs a high-powered punch as it comes equipped with an ultra-wide angle 24mm and a 10X optical zoom lens capable of taking images at 12.1 megapixels. The EX-H5's slim design makes it a perfect camera for everyday use.
The EX-H5 represents the innovation and advancement synonymous with Casio's EXILIM line. While providing users with simplified features and improved image quality, the EX-H5 is outfitted with a 2.7 inch LCD monitor and a CCD-shift image stabilization mechanism. The new camera provides the best in basic photography functions — beautiful imaging with reduced noise and long battery life for many hours of use.
At the heart of the new EX-H5 is Casio's next-generation EXILIM Engine 5.0, which provides advanced digital image quality and allows the camera to perform digital noise filtering in accordance with the conditions that caused the noise to be generated. Even when shooting with high sensitivity, noise is minimized without sacrificing resolution. EXILIM Engine 5.0 offers high quality beautiful images and reduced noise in an instant.
In addition to the high-powered benefits of the EX-H5, the camera is designed with a unique Simple Operations feature. Crafted with dedicated buttons for the capturing, play back and deleting of images and video, the EX-H5 simplifies the operation of the camera for new users. Simple Operations demonstrates Casio's dedication to developing cameras with top-notch capabilities that allow novice users to maximize their photo taking experience.
"The addition of the EX-H5 to the EXILIM line-up exhibits Casio's dedication to providing consumers of all levels with easy-to-use, high-quality cameras," said Toshiyuki Iguchi, senior general manager of Casio's Digital Imaging Division at Casio America, Inc. "The EX-H5's features allow shooters to capture an array of moments in practically any environment."
The camera also boasts Casio's celebrated Dynamic Photo, a Hollywood-like green-screen effect which adds animated graphics into still photos where users can create unique e-greetings to share with friends and family. Dynamic Photo gives the power to create original and artistic visuals that can be emailed, posted on social networks and even printed out at home.
The new camera will begin shipping to retail in July. The EX-H5 will have an MSRP of $199.99 and will be available in black, red and silver.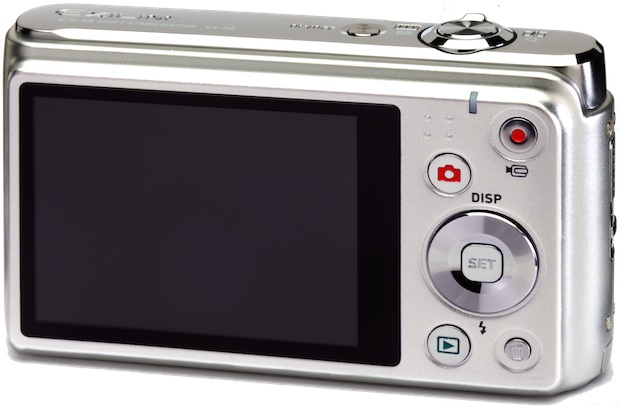 EX-H5 Features
A powerful zoom, easy-to-use compact digital camera, perfect for travelers on the go.
Beautiful images with 12.1 effective megapixels
This camera's 12.1 megapixels of high-resolution imagery can render extremely fine detail in the subject. Moreover, the advanced image processing capability provided by the EXILIM Engine 5.0 ensures that color reproduction is clear and bright, and that images have a rich tonal gradation.
Ultra-wide angle 24 mm, 10X optical zoom lens
This lens delivers all the freedom of zoom photography — from an ultra-wide angle 24 mm useful for shooting in a small room or for photographing large subjects, to a 10X optical zoom that brings distant subjects up close. The camera also has a CCD-shift image stabilization mechanism.
High Resolution HD Movies
The EX-H5 features an HD Movie function. Just press the dedicated Movie button to take beautiful movies at 1280×720 pixels.
Landscape Effect
Users can choose between the Vivid Landscape option, which vividly enhances only the most impressive colors, and the Mist Removal option, which produces clearer pictures when the atmosphere is misty.
Makeup Mode
The camera helps create beautiful pictures of people's faces. This function ensures that faces are correctly focused and well exposed, adjusts the smoothness of skin and softens facial shadows caused by sunlight.
Dynamic Photo: Make composite images of different moving images
Casio has achieved great advancements in Dynamic Photo, a function that creates "moving photos" by cutting moving subjects from the background in images taken with continuous shooting and combining those images on a different still image. In addition to composites made with a still image background, cut-out moving images can now be pasted on other moving images. This new capability raises the power of expression of images. Thus, while increasing the "fun of creating images," these models will also increase the "fun of sharing images" by making it easy to upload images to YouTube using the included software or post them to a blog.
* Photography based on CIPA standards. Calculations based on an ambient temperature of 23°C; LCD monitor on; zooming back and forward from the wide end to the telephoto end every 30 seconds; flash used once every two shots; and the power turned on and off once every ten shots.
EX-H5 Specifications
Number of Effective Pixels
12.10 million
Image Sensor
1/2.3-inch square pixel CCD
Total Pixels
12.39 million
Still Images
JPEG (Exif Version 2.2, DCF 1.0 standard, DPOF compliant)
Movies
AVI format, Motion JPEG, IMA-ADPCM (monaural)
Audio (Voice Recording)
WAV format (monaural)
Built-in Flash Memory (Image Area)
24.57MB
Recording Media
SDHC Memory Card, SD Memory Card
Pixels: Still Images
12M (4000 x 3000), 3:2 (4000 x 2656), 16:9 (4000 x 2240), 8M (3264 x 2448), 5M (2560 x 1920), 3M (2048 x 1536), VGA (640 x 480)
Pixels: Movies
HD: 1280 x 720 (24 fps) / STD: 640 x 480 (30 fps) / LP: 320 x 240 (15 fps)
High-speed Continuous Shutter
Approx. 10 frames per second at 1280 x 960 pixels (Up to 20 shots)
Approx. 4 frames per second at 1600 x 1200 pixels (Up to 8 shots)
Flash Continuous Shutter
Approx. 3 frames per second at 1600 x 1200 pixels (Up to 3 shots)
Lens Construction
11 lenses in 10 groups, including aspherical lens
F-number
F3.2 (W) to F5.7 (T)
Focal Length
f=4.3 to 43.0mm
35mm Film Equivalent
Approx. 24mm ultra-wide to 240mm tele.
Optical Zoom
10X
Digital Zoom
4X (40X in combination with optical zoom)
HD Zoom
62.4X (image size: 640 x 480 pixels)
Monitor Screen
2.7-inch TFT color LCD (Super Clear LCD), 230,400 dots (960 x 240)
Power Requirements
Rechargeable lithium ion battery (NP-80) x 1
Power Consumption
3.7 DC, Approx 2.6W
Dimensions (Excluding Projections)
4″(w) x 2.3″(H) x 1.1″(D) in.
Weight (Excluding Battery and Accessories)
Approx. 5.5 oz.
Weight (Including Battery and Accessories)
Approx. 6.1 oz.
Bundled Accessories
Rechargeable lithium ion battery, lithium ion battery charger, AC power cord, USB cable, AV cable, strap, CD-ROM