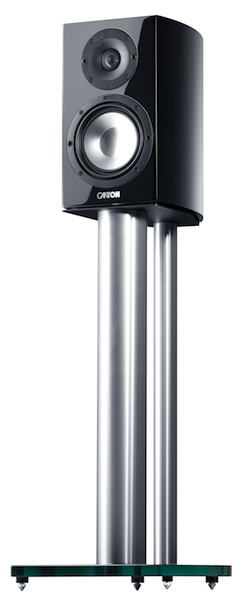 Canton Vento 880 DC (left) and Vento 810 (right, with optional LS85 stand)
Canton, Germany's largest and best-selling manufacturer of high-quality loudspeakers, has announced the introduction of two new models in its acclaimed Vento loudspeaker series. The three-way floorstanding Vento 880 and the two-way Vento 810 compact bookshelf speaker are the first models in the line to incorporate the company's 6-inch aluminum cone woofer, giving them a front baffle that is a full inch narrower than other Vento models.
Both the Vento 880 and Vento 810 include the company's acclaimed ADT-25 aluminum-manganese dome tweeter, with Canton's flared "transmission" style front plate and advanced suspension for outstanding off-axis linearity and high frequency dispersion. Each also features a newly refined 6-inch woofer that affords them a slimmer footprint while maintaining the highly musical deep bass response that the series is known for.
The Canton Vento 880 DC is a three-way bass reflex floorstanding model, featuring a pair of aluminum cone woofers, and a matched 6-inch aluminum midrange driver. At 39-inches tall, and just under 8″ wide, the speaker's slim line cabinet is further accentuated by the Vento series' hallmark curved side panels. It also features Canton's exclusive DC technology, which uses a proprietary high-pass filter to eliminate signals below the audible frequency range, which can otherwise generate high levels of unwanted harmonic distortion in the audible lower bass range. DC technology allows the speaker to provide clear, linear bass reproduction at frequencies lower than comparably-sized conventional speakers.
The Canton Vento 810 is a compact two-way speaker that is the smallest model in the Vento lineup. With a single 6-inch aluminum woofer, and a compact design, the speaker is ideal for use as a small monitor for audiophile-grade music reproduction, or as a satellite or surround speaker for a full-fledged home theater system.
Like the rest of the Vento line, both the Vento 880 DC and Vento 810 each feature gold-plated speaker terminals, including biwire/biamp capability for the 880 DC. Each model is available in the line's hand-rubbed black, white, or silver piano- lacquer finish, as well as a stunning high-gloss cherry veneer finish.
The Vento 880 DC and Vento 810 are both currently available at suggested retail prices of $2,250 and $800 each, respectively.