Canon's New PowerShot SD550, SD450 and SD30 Digital ELPH Cameras Feature Bigger LCD Screens and Fashion-Focused Designs
LAKE SUCCESS, NY, Aug. 22, 2005 – Canon continues to address and appeal to the style conscious consumer with the addition of three new design-oriented digital cameras. The 7.1 and 5.0 megapixel PowerShot SD550 and SD450 Digital ELPH models pump up the viewing screen, while maintaining their petite packages. Combining function with fashion, the stylish new 5.0 megapixel PowerShot SD30 Digital ELPH series focuses on fall colors and optical zoom lenses.
"Whether on vacation with the family or just enjoying a day at the beach, Canon offers end-to-end photo solutions from capture to output in the Digital ELPH series and throughout the PowerShot camera line," said Yukiaki Hashimoto, senior vice president and general manager of the Consumer Imaging Group at Canon U.S.A., Inc. "The new cameras offer a comfortable, compact, and ergonomic design while maintaining the sophistication and function of their predecessors; they are must-have accessories this fall."
Bigger Than Ever… In The Same Petite Package
Bigger but still petite is Canon's mantra with the introduction of the 7.1 Megapixel PowerShot SD550 Digital ELPH and 5.0 Megapixel PowerShot SD450 Digital ELPH cameras, which join Canon's line-up between the SD500 and SD400 models which will continue to be available. The new PowerShot SD550 and 450 Digital ELPH cameras offer consumers a big 2.5-inch LCD screen, while retaining Canon's famed functionality and optical viewfinder. Additionally, the new cameras feature a new UI display designed to capitalize on the larger screen size.
"The PowerShot SD550 and SD450 Digital ELPH cameras have essentially the same body sizes and specifications as the PowerShot SD500 and SD400 Digital ELPHs, but offer consumers a wider range of options when choosing the right camera for their lifestyle," said Hashimoto. "By providing users with the ability to choose, Canon will always have something that fits each user's individual tastes. Furthermore, by keeping the optical viewfinder, we still provide the user the ability to use these cameras in all types of lighting conditions."
Additional features on the new SD550 and SD450 Digital ELPH models include 3.0x optical zoom lenses, four new scene modes (Foliage, Snow, Beach and Fireworks), compositional grid lines, 30 fps VGA/60 fps QVGA movie recording with sound, movie playback at varying speeds, slide show transition effects, menu shortcuts and many more.
"Strike a Pose"
Metallics are back! Designed with the fashion conscious trendsetter in mind, the PowerShot SD30 Digital ELPH camera comes in four new attractive colors designed to coordinate with other fashion accessories for a night on the town. Replacing Canon's previous line of fashion-focused cameras, the PowerShot SD20 Digital ELPH series, the new models keep in line with fall 2005 fashion's "must have colors" for the season. The PowerShot SD30 Digital ELPH cameras will be available in the metallic finishes of Tuxedo Black, Rockstar Red, Glamour Gold and Vivacious Violet. These cameras also come with color coordinated cases for each camera color.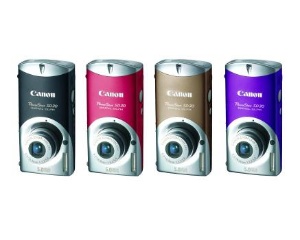 Fashion meets Function Once Again…
The PowerShot SD30 Digital ELPH cameras incorporate a great measure of functional beauty and sense of lightness, thanks to the adoption of the latest design techniques and new color variations. The PowerShot SD30 Digital ELPH cameras incorporate a full range of high-performance features, including a 5.0 Megapixel CCD, a retractable 2.4x optical zoom lens (35mm film equivalent: 38-90mm) and 4.0x digital zoom. The cameras also feature Canon's exclusive DIGIC II image processor, Hi-Speed USB 2.0 connectivity, and an easy-to-read 1.8-inch LCD screen, which is larger than their predecessors.
The PowerShot SD30 Digital ELPH cameras feature an impressive 16 shooting modes, including Auto, Camera M (manual), Macro, Portrait, Landscape, Night Snapshot, My Colors, seven Special Scene modes (Kids and Pets, Indoor, Foliage, Snow, Beach, Fireworks and Underwater(1)), Stitch Assist and Movie. While in movie mode, the PowerShot SD30 Digital ELPH offers three movie modes: Standard, My Colors and Compact.
Need A Rest? Dock it Here
Canon's new PowerShot SD30 Digital ELPH models will be supplied with a new Camera Station, the CS-DC1, which lets consumers easily charge their camera. It also enables video output, image transfer to a PC and direct printing, via the supplied wireless remote control.
DIGIC II Image Processing Technology- Hi-Speed USB 2.0
True to the PowerShot tradition, these three new PowerShot digital cameras have many of the latest advances in Canon technology including the proprietary DIGIC II imaging processor. The processor enhances picture definition, vibrancy and quality, while helping increase the speed of the cameras' startup, autofocus, shutter response, playback and image processing speed and reducing power consumption by 35 percent compared to the original DIGIC chip. Image transfer speed is accelerated (when used with a USB 2.0 compatible computer, printer or other peripheral), thanks to the inclusion of a Hi-Speed USB 2.0 port. The USB 2.0 port is backwards compatible (at no increased speed) with computers featuring standard USB 1.1 connections.
Print Photos in Seconds
Like all PowerShot digital cameras, the cameras work seamlessly with Canon's petite SELPHY Compact Photo Printers – an essential PowerShot accessory. Consumers simply connect their PowerShot digital camera to a SELPHY printer – such as the new SELPHY CP510, CP710 and CP600 models – press the lighted Print/Share button, and within 58 seconds(2), images emerge. Presto! It's that simple. Canon's SELPHY Compact Photo Printers are PictBridge compatible. They work with PictBridge enabled digital cameras and offer excellent image quality and ease-of-use, especially when paired with a Canon digital camera. At 28 cents-per-print(3), printing photos directly from a digital camera is both easy and affordable.
Pricing and Availability
The PowerShot SD550 and SD450 Digital ELPH cameras will be supplied with a Battery Pack NB-3L (SD550) / NB-4L (SD450). Battery Charger CB-2LU (SD550) / CB-2LV (SD450), Wrist Strap and AV Cable AVC-DC300, Interface Cable IFC-400PCU, as well as a 32MB or 16MB SD memory card respectively, software, and user manuals. The PowerShot SD30 Digital ELPH camera will be supplied with Camera Station CS-DC1, Wireless Controller WL-DC200, Compact Power Adapter CA-DC20, Battery Pack NB-4L, AV Cable AVC-DC300, Interface Cable IFC-400PCU, Wrist Strap, MultiMediaCard MMC-16M, software and user manuals and a matching case(case color depends on camera color). Optional accessories include All Weather Case AW-DC40 (waterproof up to 3 meters/9.8 feet), Battery Charger CB-2LV, and High Power Flash HF-DC1.
The PowerShot SD550, SD450 and SD30 Digital ELPH cameras will be available in September for estimated street prices of $499.99(4), $399.99(3), and $399.99(3), respectively.
About Canon U.S.A., Inc.
Canon U.S.A., Inc. delivers consumer, business-to-business, and industrial imaging solutions. The Company is listed as one of Fortune's Most Admired Companies in America, and is ranked #35 on the Business Week list of "Top 100 Brands." Its parent company Canon Inc. (NYSE:CAJ) is a top patent-holder of technology, ranking third overall in the U.S. in 2004. Canon Inc. achieved global revenues of $33.3 billion in 2004; $10.6 billion of which came from Canon Americas. For more information, visit http://www.usa.canon.com.
All referenced product names, and other marks, are trademarks of their respective owners.
Specifications and availability dates are subject to change with notice.
(1) Optional underwater housing available.
(2) Print speed based on average output speed achieved during product testing with DIGIC II processor embedded Canon PowerShot digital cameras. Other products' print speed may vary. Printer functions are sensitive to temperature and humidity.
(3) Based on Canon KP-108IP paper and ink pack manufacturers suggested retail price as of 6/15/05 and as compared to competitors' similar products
(4) Pricing is subject to change without notice at any time. All prices are set by individual dealers and may vary.