Upgrades Include a New Tilt LCD Screen and Shuffle Feature
Canon today announced the new SELPHY CP800 Compact Photo Printer featuring a new tilt LCD screen in addition to a new Shuffle feature enhancing its ease-of-use and functionality. Following in the footsteps of the successful Canon SELPHY CP780 Compact Photo Printer, this model offers an innovative design enabling consumers to enjoy the flexibility and convenience of printing high-quality photos from almost anywhere without the hassle of using busy kiosks at retail locations.
The size and portability of the Canon SELPHY CP800 Compact Photo Printer helps make it possible to produce immediate keepsake photos from almost anywhere. When using the optional battery pack, users can immediately print memorable photos from a day camping in the woods or of a child's first big catch while fishing. The new Shuffle feature provides a new way to share memories by selecting images from a memory card which can be compiled all on one print. Now, those memories from the family vacation abroad or of a fun day at the beach can be easily shared with friends and family on one 4″ x 6″ print. A new 2.5-inch tilt LCD screen allows for easy viewing, selecting and editing of images.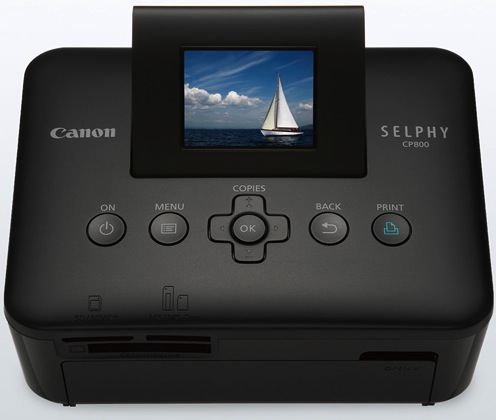 The new SELPHY CP800 Compact Photo Printer has a host of new features which not only keep with this tradition but take it one step further. Helping to enhance skin tones is the Smooth Skin feature which produces more natural and appealing colors. Additional support is provided by the Image Optimizer, which helps correct exposure and adjust the brightness, contrast and sharpness of images, and the Portrait Image Optimize feature, which automatically delivers face detection, backlight correction and noise reduction.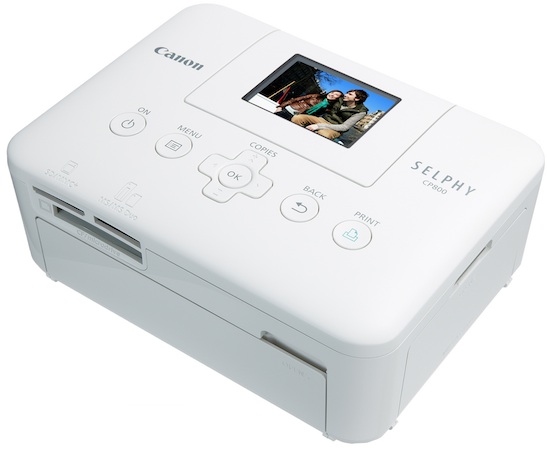 The Canon SELPHY CP800 Compact Photo Printer prints a 4″ x 6″ high-quality photo in approximately 47 seconds that is capable of lasting up to 100 years while maintaining its brilliance. Users can also print photos without connecting to a computer by printing directly from compatible memory cards or using the PictBridge connection. The estimated selling price of the SELPHY CP800 Compact Photo Printer is $99.99 and will be available in both black and white colors.
Canon SELPHY CP800 Reviews
From Critics Around the Web