Canon today announced three new rebranded PowerShot ELPH digital cameras, the ELPH 500 HS, ELPH 300 HS and ELPH 100 HS models — all featuring Canon's HS SYSTEM for exceptional shooting in low-light, Full 1080p HD video, new Movie Digest Mode and 32 Smart AUTO scenes.
Rebranding of the ELPH models:
Showcasing the true evolution of the ELPH brand, the new PowerShot ELPH models have now instituted a "HS" suffix to represent the inclusion of the HS SYSTEM in each model. The renaming of the ELPH model will help to better correlate with Canon's ever-increasing capabilities in its PowerShot Digital cameras, while retaining its popular identity. With the ELPH 500 HS, ELPH 300 HS and ELPH 100 HS Digital cameras, the new names of the ELPH models will also serve as an easy solution to help consumers make an informed decision about which camera to purchase.
Introduced last year, the HS SYSTEM is a technology used to enhance image quality in low-light situations without the need for a flash. Making up the HS SYSTEM in these new models is Canon's DIGIC 4 Image Processor combined with a High-Sensitivity CMOS sensor, which helps to reduce noise at high ISO levels and expand the camera's dynamic range, ultimately capturing greater detail and color in images in darker settings, like a wedding reception. With the use of the HS SYSTEM, consumers are able to capture clearer images with less noise and blur, resulting in brilliant, sharp images.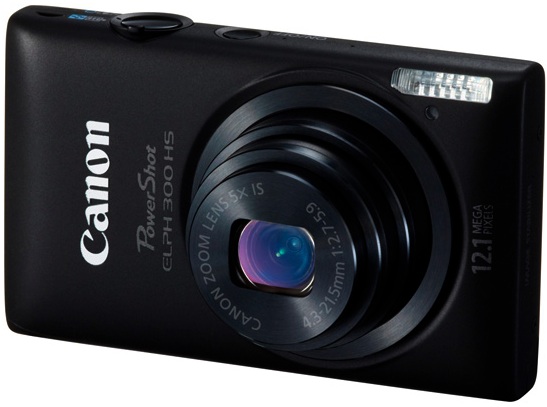 Shooting video like never before
Having the ability to shoot HD video is imperative when capturing a full sequence of events, such as attending a high-end runway show in New York City or witnessing a baby's first steps. The Canon ELPH 500 HS, ELPH 300 HS and ELPH 100 HS now feature Full 1080p HD video with Dynamic Image Stabilizer, providing secure, stellar resolution in a compact frame. A new feature called Movie Digest mode can be found in all the new PowerShot models, allowing consumers to shoot a short video before capturing a still image and then combine a full day's worth of videos into one clip, making it easier for consumers to relive those special moments again and again.
Increase intelligence with Smart AUTO
The quest to capture the perfect image can be difficult if the camera does not have the correct settings. Helping to make the photographic journey that much easier, the new Canon PowerShot Digital cameras have advanced Smart AUTO with 32 different shooting scenes. Smart AUTO is helpful since the camera will automatically select settings that match the scene without the need to switch modes, making it possible to take beautiful photos in a variety of situations. Tracking desired objects on a screen with ease, Advanced Subjection Detection has been added to the Smart AUTO function as well, providing the successful capture of fast moving objects, vehicles or birds flying across the sky. By simply pressing the shutter button, the Advanced Subject Detection automatically identifies certain objects like a fish in an aquarium. After pressing the shutter button, the Servo Auto Focus/Auto Exposure continues to function and the focus and exposure of the moving subject continues to be tracked, making it possible to shoot without the subject passing by.
Helping to add more artistic flair to images is the inclusion of Toy Camera effect and Monochrome effect to the scene mode category for all four of the new Canon PowerShot models. Toy Camera Effect adds a grainy, blurred look to soften photos, illustrating an old-school, 1960's appearance and Monochrome mode can make a photo either have black-and-white, blue or sepia tones, displaying a more classic, antiqued appearance.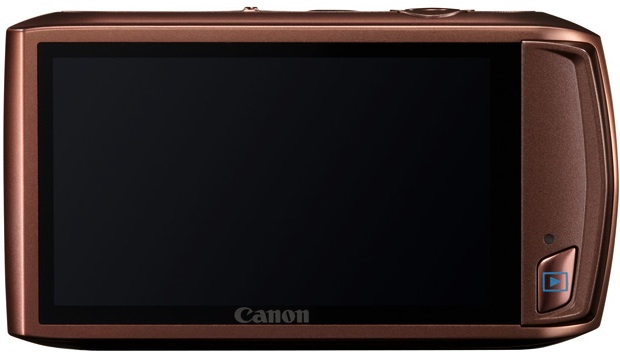 Available in silver, brown and pink, the Canon PowerShot ELPH 500 HS features a 3.2-inch wide, intuitive, touch-panel LCD screen. The PowerShot ELPH 500 HS also has a bright f/2.0 lens, enabling users to take photos without a flash, resulting in a more natural look while providing greater depth of field. The camera also possesses a 12.1-Megapixel High-Sensitivity CMOS sensor along with a 4.4X Optical Zoom with Optical Image Stabilizer and an ultra-wide angle 24mm equivalent lens, which is ideal for large group shots at a family reunion or high school graduation.
The Canon PowerShot ELPH 300 HS Digital camera has a 12.1-Megapixel High-Sensitivity CMOS sensor, 5X Optical Zoom, an ultra-wide angle 24mm equivalent lens along with a 2.7-inch LCD screen and is available in red, black and silver.
The Canon PowerShot ELPH 100 HS Digital camera possesses a 12.1-Megapixel High-Sensitivity CMOS sensor, 4X Optical Zoom, a wide angle 28mm equivalent lens and 3.0-inch LCD screen and comes in blue, gray, pink, silver, and orange.
Price and Availability
Canon PowerShot ELPH 500 HS – $299.99 (available end of March)
Canon PowerShot ELPH 300 HS – $249.99 (available mid-March)
Canon PowerShot ELPH 100 HS – $199.99 (available mid-March)
Also announced today:
Canon PowerShot SX230 Digital Camera
Canon PowerShot ELPH 100 Reviews
From Critics Around the Web