Features New Trackpad For Easy Navigation; Available at AT&T or T-Mobile USA
The BlackBerry Bold™ 9700 smartphone from Research In Motion (RIM) will be available from both AT&T and T-Mobile USA in the coming weeks. The new BlackBerry Bold 9700 builds on the success of the original Bold model, introduced nearly one year ago.
The device is a beautiful combination of black and chrome accents that house a brilliant high-resolution display in a compact and lightweight package. The BlackBerry Bold 9700 features a 624 MHz processor with 256 MB of Flash memory, 3.2 megapixel camera and A-GPS to provide a faster location fix in support of AT&T Navigator with real-time traffic data. The new BlackBerry Bold 9700 smartphone also features an innovative touch-sensitive trackpad instead of the previous trackball for quick and easy access to email, messages, apps and more. It will also come preloaded with Visual Voicemail at no extra cost. T-Mobile's version will have the ability to make voice calls over Wi-Fi with the Unlimited HotSpot Calling mobile plan or Wi-Fi Calling with MobileOffice service plans.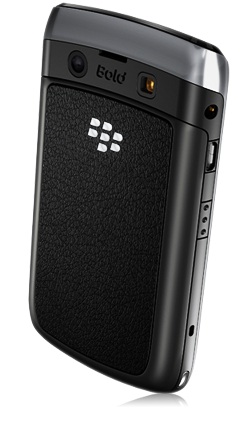 AT&T users of the new BlackBerry Bold 9700 can enjoy other benefits only available to them including the best coverage worldwide and access to the nation's largest Wi-Fi network with more than 20,000 U.S. hotspots — including approximately 7,000 Starbucks locations. As with all other Wi-Fi enabled BlackBerry smartphones from AT&T, BlackBerry Bold 9700 users with a qualifying data plan, which includes all consumer BlackBerry unlimited data plans, get seamless and unlimited access to these domestic hotspots at no additional cost. When traveling outside the U.S., BlackBerry Bold 9700 users can enjoy wireless voice coverage in more than 215 countries and wireless data coverage in more than 185 countries. Of those, BlackBerry Bold 9700 users can access ultra-fast 3G mobile broadband services in more than 100 countries.
Mobile users will enjoy outstanding battery life, simultaneous voice and data capabilities and the ability to run multiple email accounts whether they are corporate or personal accounts. The device also affords power users the ability to edit Microsoft Word, Excel and PowerPoint files and runs BlackBerry OS v5.0, which supports BlackBerry Enterprise Server 5.0, making it possible for users to add follow-up flags to emails, manage Microsoft Exchange mail folders, forward appointments and view calendar attachments. The BlackBerry Bold 9700 can also be used as a 3G modem for a laptop computer with an additional data plan.
For people who need to be connected, the BlackBerry Bold 9700 smartphone provides the industry's leading mobile e-mail and messaging solution, and access to popular social networking applications, such as Facebook. It features RIM's distinctive, fretted highly tactile full-QWERTY keyboard for fast and accurate typing, and an innovative touch-sensitive optical trackpad, which makes for a great navigation experience. It also features rich multimedia capabilities with a 3.2 megapixel camera with autofocus, flash and video recording; a sharp, dazzling high-resolution display; and a music and video player.
The BlackBerry Bold 9700 offers easy access to BlackBerry App World™, the official app store for BlackBerry smartphones, enabling customers to browse and download fun and functional mobile applications to their phone. Many applications are readily available directly on the smartphone, such as Slacker Radio for easy access to free music, TeleNav GPS Navigator for turn-by-turn directions, and visual voicemail for easier access and response to voicemails. A hot-swappable microSD/SDHC memory card slot provides additional storage for multimedia files and archiving applications with a 2GB memory card included and support for 32GB cards when available.
Features
Sleek, full QWERTY, 3G BlackBerry smartphone on the nation's fastest 3G network

Brilliant half VGA resolution 480 x 320 pixel color display (2.44″ diagonal)
Powerful 624 MHz processor
256 MB flash memory for applications and multimedia
Integrated Wi-Fi (802.11 b/g) for work, home and on the go with automatic access to over 20,000 AT&T Wi-Fi Hot Spots
A-GPS support for AT&T Navigator with real-time traffic data.
3.2 MP camera with flash, 2x digital zoom & video recording
Exceptional battery life. Talk Time: up to 6 hours, Standby Time: up to 19 days
Global roaming in 215+ countries for voice, 185+ countries for data including South Korea and Japan.
Visual Voicemail. Listen to voicemail messages in any order you choose
Multitask. Simultaneous voice and data when connected to 3G or Wi-Fi.
Facebook and MySpace preloaded
Innovative easy-to-use optical trackpad
3G or Wi-Fi tethering for laptop connectivity
BlackBerry Device Software 5.0
Specifications
Dimensions: 4.29 x 2.36 x 0.56 inches
Weight: 4.2 ounces (with battery)
Talk Time: Up to 6 hours
Standby Time: Up to 19 days
Battery: 1500 mAhr removable/rechargeable cryptographic Lithium cell
Technology: HSDPA/UMTS/EDGE/GPRS/GSM
Frequency: 850/900/1800/1900 MHz (GSM/GPRS/EDGE); 800/850/1900/2100 MHz (UMTS/HSDPA)
Processor Speed: 624 MHz
Memory: 256 MB flash memory (with hot swappable microSD™ expandable up to 16-32 GB. Micro SD card sold separately.)
Display: Half VGA 480 x 320 pixels; 65k Color TFT
Wi-Fi 802.11 b/g for additional in-building coverage at work, public hotspots, or home (requires BlackBerry data rate plan)
Full QWERTY keyboard
"The new BlackBerry Bold 9700 delivers state-of-the-art features and performance in a compact and beautifully designed handset," said Don Morrison, Chief Operating Officer at Research In Motion. "This sleek and powerful 3G smartphone offers an incredibly refined mobile experience that is ideal for both personal and professional use."
The BlackBerry Bold 9700 smartphone will be available in the coming weeks for $199.99 (pay $299.99 and receive $100 mail-in-rebate.)
Price Update (August 2010)
Reviews Around the Web:

blackberry bold 9700
<!-comments-button-->