Delivers Superb Musical Reproduction with Silent, Friction-Free Technology
Bergmann Audio of Denmark has introduced the Sleipner Airbearing Turntable with Airbearing Tonearm. The Sleipner is a reference-level turntable powered by airbearing technology. It includes a linear tracking airbearing tonearm, a digital motor-controlled air supply, and a vacuum clamp to stabilize records. In Danish, Sleipner means smooth or gliding, and refers to what is sometimes called the best of all horses, the eight-legged flying stallion ridden by Odin, chief among the mythological Nordic gods. In English, Sleipner stands for a supreme achievement in turntable technology.
The Sleipner is built with a simple, timeless design, in keeping with Bergmann's "less is more" philosophy, and in keeping with Bergmann's airbearing technology, which offers a number of advantages. The airbearing process is frictionless, for example, minimizing bearing noise and yielding exceptional stability. The airbearing tonearm glides friction-free and only makes contact with a record through the stylus tip and tonearm wire. The result is an emotionally engaging musical reproduction, with an unexpectedly effective bass response, that transmits nuances and details as natural elements of a vivid and transparent acoustic image, The Sleipner's plinth, or base, is a six-layer sandwich of different materials for optimal resonance control. The sandwich consists of three boards of powdered granite/epoxy binding material, two layers of aluminum, and one layer of bitumen, all covered in a 12-mm thick coat of hand-painted and polished polyvinyl. The plinth stabilizes the tonearm, and rests on a set of sturdy, adjustable Ceraball feet, which house vibration-controlling ceramic ball-bearings inside aluminum housings.
A 20.2-pound aluminum platter rests atop the plinth, and atop a 21-mm record mat made of two layers of polycarbonate and one layer of acrylic. The Sleipner's air supply both supports and centers the platter and provides a thin, dry film of smoothly flowing air, creating a silent, friction-free movement.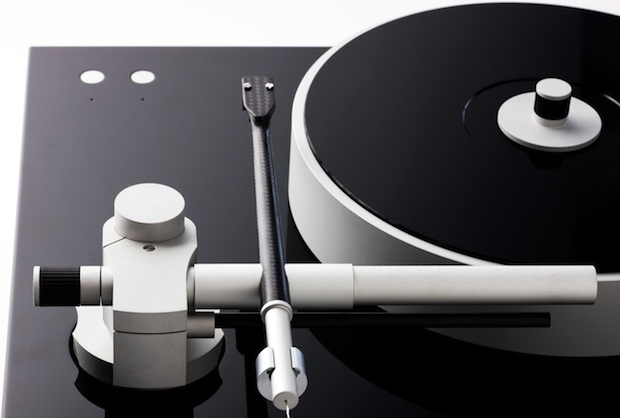 The linear-tracking airbearing tonearm consists of a tubular carbon arm and headshell molded in one piece for optimal stiffness. The hollow arm is damped on the inside and houses connecting wires of pure silver. A highly precise, digitally controlled DC motor with an oversized power supply regulates record speeds, including settings for 33 and 45 rpm.
Price and Availability
The Sleipner Airbearing Turntable with Airbearing Tonearm is available now from Aaudio Imports at a suggested price of $48,000 (U.S. MSRP).
About Bergmann Audio
Bergmann Audio is a Danish manufacturer specializing in airbearing turntables and linear tracking airbearing tonearms. Every part is handcrafted in Denmark to optimize the airbearing principle, and achieve the exceptional sound and timeless designs for which Bergmann is known.