Bella Corporation today announced they are shipping version 2.0 software for the HD Mouse and version 3.1 software drivers are now available for their award winning jog/shuttle keyboards.
The wireless HD Mouse delivers the ultimate multimedia experience, providing exciting capabilities not found in any other mouse. Using patented technology in Bella's exclusive HD software, mouse movements (X and Y axis) can be defined to provide intuitive gesture-type control, such as transforming the HD Mouse into a jog/shuttle controller for video editing enthusiasts. Gamers and power users will appreciate being able to program any keystroke, combination keystroke or series of keystrokes (macros) to any of the buttons, scroll wheel or mouse movement.
HD Mouse 2.0 New Features:
A five button mouse becomes a 50 button mouse: modifier keys can now be combined with mouse clicks, enabling as many as 48 options on Windows and 96 unique click options on Apple Mac systems.
Mouse clicks can be programmed into macros.
User Profiles: up to three user profiles can be stored to accommodate additional users or multiple settings for a single application.
Multiple ways to enter HD Mode: Scroll click (original method), Side Button 1 or Side Button 2.
HD Mode notification icon: user selectable sizes and position provides valuable mode feedback.
Windows key disabling: In HD Mode, the Windows key can be disabled so that it is not accidentally pressed during game play.
Timeout function: If the mouse is inactive in HD Mode for a period of time (2, 5 and 10 minutes) it will automatically switch back to 'standard' mouse mode.
HD Mouse 2.0 Enhancements
Windows 7/Mac 10.6 compatible
On Screen Display (OSD): you can now choose to display the movement arrows just vertically, horizontally or both horizontally and vertically.
A new programmable button, the Scroll Wheel click down. The Scroll wheel click down may now be programmed as long as you've chosen to enter HD Mode by one of the side buttons.
More precise tracking while playing games such as World of Warcraft.
HD Mouse program interface highlights your last active app, making it easier to make sure your settings are correct.
On-screen display is automatically disabled when entering full screen mode of some games and applications that require exclusive access to the graphics card.
The HD Mouse has an MSRP of $69.95 and is available through numerous retail channels as well as directly via the Bella Corporation web site at www.Bella-USA.com
Updated Jog/Shuttle Keyboard Software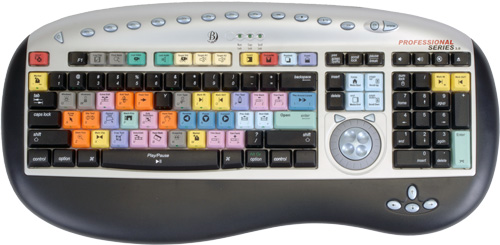 JSM 3.1 Software
Bella also announced that there are updated versions of their software for the Professional and DV Series of video editing keyboards, the world's only keyboards with a built-in jog/shuttle controller. The JSM 3.1 software, for both Mac and Windows users, brings Microsoft Windows 7 and Apple Macintosh 10.6 (Snow Leopard) compatibility, and are available free via the Bella web site at http://www.bella-usa.com/Support/Drivers.htm
Thanksgiving 'Black Friday' Specials
In celebration of the new releases and the holiday season, Bella is offering special discounts and free ground shipping from now through the week of Thanksgiving, ending November 29th. The specials will only be available through the Bella website at Bella-USA.com.
To take advantage of the specials, shoppers will need to use the following coupons (case sensitive) with the following product purchases (see website for complete details):
HD Mouse: Save $10 and free shipping, Coupon Code: BFHD10
Professional Series Keyboards: Save $20 and free shipping, Coupon Code: BFPS20
DV Keyboard: Save $20 and free shipping, Coupon Code: BFDV20
Advantage Series Keyboards: Save $10 and free shipping, Coupon Code: BFAD10
About Bella Corporation
Bella Corporation provides time-saving tools to home through professional videographers, gamers, and creative content producers. Their products work with applications from Apple, Adobe, Avid, Blizzard Entertainment, Microsoft, Pinnacle Systems and others.