Complete with Apple's "Works With iPhone" Certification, Existing TuneCast Auto for iPhone and iPod is Now Compatible with New iPhone 3G
Belkin's current TuneCast Auto for iPhone and iPod now works with the iPhone 3G. By passing the certification testing required by Apple's "Works With iPhone" program, you can be ensured that your iPhone 3G is compatible with the TuneCast Auto. Featuring ClearScan technology, TuneCast Auto will automatically seek out the best FM frequency to play the music from your iPhone 3G in your car by one push of a button.
Availability
Currently available in all global regions
TuneCast Auto for iPhone and iPod (F8Z182) – US: $79.99
Features ClearScan technology
Includes line-out for use with car-stereo inputs or cassette adapter
PRO setting optimizes audio and boosts volume
Transmits audio wirelessly on multiple FM channels from 88.1MHz-107.9MHz
Attached auto power cord powers and charges your iPhone or iPod in the car
Flexible design lets passengers control playlists
This accessory is compatible with the following iPod models:
iPhone 3G
iPhone
iPod touch
iPod nano 3rd generation (video)
iPod classic
iPod nano 2nd generation (aluminum)
iPod 5th generation (video)
iPod nano 1st generation
iPod 4th generation (color display)
iPod 4th generation
iPod mini 1st generation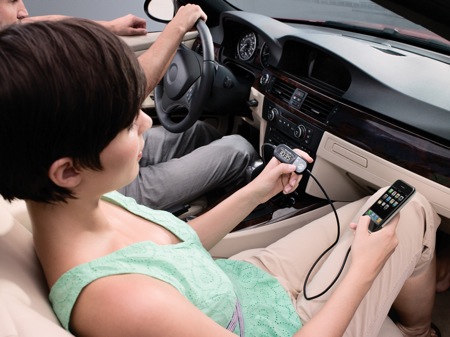 iPod is a trademark of Apple Inc., registered in the U.S. and other countries. iPhone is a trademark of Apple Inc.
About Belkin International, Inc.
Belkin offers a diverse product mix that provides people with seamless electronics integration in their homes, cars, and on the go. Founded in California in 1983, Belkin is a privately held company and the recognized leader in connectivity solutions, in addition to accessories for MP3 devices, computers, and more. We provide extensive solutions for networking, home theater–with our PureAV line of cables, power, and digital wireless accessories–and many more categories. You can view and purchase them at http://www.belkin.com, as well as through a network of major distributors, resellers, and superstores.