Listening to a film has never been this good
Bang & Olufsen has now released the BeoLab 7-4 loudspeaker, which offers a genuine centre speaker solution for top of the line surround sound performance, when experienced with the BeoVision 7 LCD television, the BeoVision 4 plasma monitor, or with a projector setup. BeoLab 7-4 is a dedicated mono centre speaker that uses Bang & Olufsen proprietary and licensed technologies to provide precise acoustic clarity to the voice track, for a complete and unbeatable home cinema experience.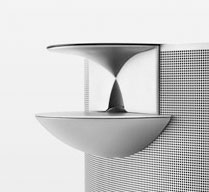 "This dedicated centre loudspeaker utilizes two exclusive technologies that differentiate BeoLab 7-4 from what is otherwise available on the market," explains Villy Hansen, Product Manager at Bang & Olufsen. "The even distribution of sound from the acoustic lens provides extra authenticity when listening to speech from a film or on television and ICEpower ensures that BeoLab 7-4 can play to the most demanding set up imaginable — four of our BeoLab 5 loudspeakers."
Superior performance from technology and construction Built on Active Loudspeaker technology and with thermal protection circuits that ensure the loudspeaker performs without distortion even at very high volume, BeoLab 7-4 can be used with all BeoLab loudspeakers for the ultimate surround sound experience with BeoVision 7, BeoVision 4, or with a projector setup.
BeoLab 7-4 is a two-way dedicated mono centre loudspeaker driven by two 250W digital ICEpower amplifier units, fine-tuned with a special focus on the reproduction of speech. The amplifier units drive the 5″ woofer/mid-range and 3/4″ tweeter, guaranteeing a powerful bass, midrange and treble performance. ICEpower is a Bang & Olufsen patented technology which combines high efficiency and low energy consumption with excellent sound quality, saving precious space in the loudspeaker cabinet without compromising sound quality.
The acoustic lens at the top of BeoLab 7-4 ensures a perfect sound dispersion from the treble through 180 degrees horizontally. Bang & Olufsen is exclusively licensed by Sausalito Audio Works LLC of California, USA, to use Acoustic Lens Technology in domestic loudspeakers. BeoLab 7-4 has a vertical construction that provides the best possible tonal balance found in speech.
BeoLab 7-4 generates exceptional sound volume, enabling it to play up to even a set of BeoLab 5 loudspeakers. The cabinet is cast in a single piece of aluminium and coated in the resilient black soft-touch lacquer. The front panel is available in four colours — black, dark grey, red and blue — in addition to natural aluminium.
A loudspeaker to be experienced With the release of BeoLab 7-4, Bang & Olufsen has further increased the versatility and choices available for connoisseurs of television and cinematic sound. For example, when used with BeoVision 7, BeoLab 7-4 is mounted on the television's stand. When used with BeoVision 4 or a large projection screen, it can be mounted on a special wall bracket.
BeoVision 7-40 offers an incredible viewing experience from its 40″ LCD screen and, with the built-in DVD player, offers an exceptional home cinema solution for the living room. BeoVision 4 is Bang & Olufsen's modular plasma home cinema solution, available in screens sizes of 37″, 42″, 50″ and 65″.
"All Bang & Olufsen products present levels of performance and pleasurable interaction that truly make a difference to entertainment at home," says Villy Hansen, and concludes: "I have no doubt that loyal Bang & Olufsen customers and audio experts alike will be impressed by what we have achieved with BeoLab 7-4."
Specifications:
Loudspeaker Two-way mono, active loudspeaker
Power consumption 12W, standby 0.3W
Acoustic Lens Technology Yes
Amplifier units Two 250W ICEpower units,
one for each driver unit
Frequency range 50 — 20,000 Hz
Drive units 5″ woofer/mid-range, 3/4″ treble
Thermal protection On each unit
Adaptive Bass Linearisation Yes
Bang & Olufsen a/s
Founded in 1925 in Struer, Denmark, Bang & Olufsen a/s is world renowned for its distinctive range of quality consumer electronic products that represent our vision: Courage to constantly question the ordinary in search of surprising, long-lasting experiences. The Bang & Olufsen Group manufactures a unique range of televisions, music systems, loudspeakers, telephones, medical, and multimedia products. With more than 2,400 employees and products sold in more than 60 countries worldwide, Bang & Olufsen's turnover for the 2004/2005 financial year was DKK 3,742million (EUR 502 million). Further information about Bang & Olufsen a/s is available from www.bang-olufsen.com