Bang & Olufsen announced a LED-backlit BeoPlay V1 LCD HDTV in 32-inch or 40-inch screen sizes. It is their lowest priced television ever and first from their new sub-brand B&O Play. The BeoPlay V1 was specially designed to deliver flexible placement options and outstanding audio and video performance — all in one solid design package. BeoPlay V1 features much improved sound over other TV's with built-in speakers, offering deep bass, well-defined highs and articulated mid-range tones. Human voices are rendered with exceptional fidelity. Soundtracks come alive from the lowest rumble to the brightest tweet, and music sounds like the original recording. BeoPlay V1 even detects the type of content you're enjoying on screen, and automatically optimizes sound performance to the source.
BeoPlay V1 works without extra speakers, subwoofers, wires or worries to provide an immersive audio experience. Bang & Olufsen's proprietary Class D ICEpower amps power up the speakers. All the sound most people will ever need is built right into the steel cabinet, but should you want to add extra speakers, the integrated 5.1 surround module and speaker/subwoofer connections are all there to go full 5.1.
Designed by Anders Hermansen, BeoPlay V1 has its roots in a Scandinavian idiom of no-nonsense industrial aesthetics. The rugged steel cabinet is powder coated so that it feels soft to the touch and it combines clean lines with exquisite metal joinery. The loudspeaker grill is stamped directly into the cabinet, below the screen. And the stainless steel stands connect unobtrusively and simply at all four corners.
The picture stays clear no matter what else is going on in the room — and no matter what you're watching. The LED screen and powerful video engine keep things sharp, while contrast control adjusts to ambient light; dedicated film and game modes bring home the goods just as the director intended. Users can also adjust color settings on their own in the advanced menu.
True to its Bang & Olufsen heritage, BeoPlay V1 is easy to live with. The graphic user interfaces are intuitive and simple. Connection to third-party devices is easy to achieve, and BeoPlay V1 lets you easily detect and configure connected set-top boxes, gaming consoles, Blu-ray players, Apple TV (which can be placed inside the BeoPlay V1 cabinet), NAS servers and hard disks. Additionally, the integrated media browser lets you view photo collections or listen to music on a USB drive or NAS server and the dedicated remote not only makes setup and channel surfing simple: it also handles third-party devices such as DVD players and digital recording devices, so everything can be commanded from one place.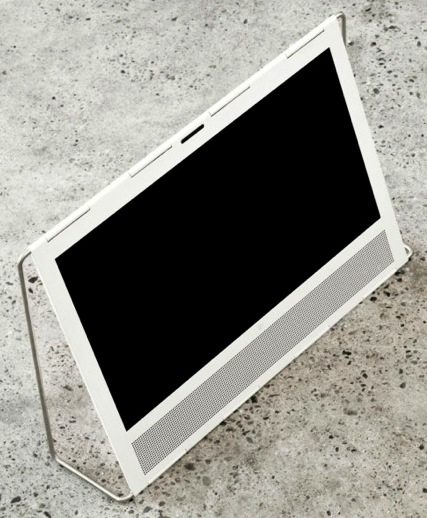 The BeoPlay is available with three mounting options: wall mount, wire suspended (motorized), or floor stand.
Price and Availability
The B&O BeoPlay V1 will be available in 32″ for $3,249 and 40″ for $3,999, in either black or white at the end of May 2012 in the US, Canada, and Mexico.