On-Wall Speakers and Center Channels Easily Mount With Power Bracket
Axiom Audio, builder of critically praised high-fidelity loudspeakers and home theater surround-sound systems for 30 years, has announced an attractive new series of decor-friendly on-wall speakers that simply hang on the wall and don't waste floor space.
The On-Wall M0, M2, M3, and M22 attach to Axiom's innovative dedicated Power Bracket, an easy-to-use mounting system that lets you simply slide the speakers into place: no messing around with wires, no contortions trying to see if you've got the right wire going into the right hole. The Power Bracket does it all for you, connecting the speaker to the speaker cables and mounting the speakers in one easy step.
| | |
| --- | --- |
| VP100 | VP150 |
The On-Wall VP100 and VP150 center channels–the On-Wall versions of Axiom's existing center channel speakers– are supplied with Axiom's sturdy steel T-bracket that lets the speakers be mounted flush against the wall surface for a smooth unobtrusive appearance.
Available in all finishes, the Axiom On-Walls offer real sonic advantages to owners of new flat-panel plasma and LCD displays. The speakers can be ideally located to each side of a flat-screen TV, for an enhanced stereo soundstage that integrates seamlessly with the visual display.
| | |
| --- | --- |
| M2 | M3 |
The series begins with the compact On-Wall M0, and includes versions of Axiom's popular bookshelf models, even sporting the same model numbers: the On-Wall M2, M3, and M22, with on-wall center-channels VP100 and VP150 completing the lineup. The M0 is available now; the other models will begin production in May. To make ordering from its direct-sales on-line web site easy, Axiom has priced the On-Wall models identically with their standard bookshelf counterparts e.g., the On-Wall M2 costs $296US per pair ($305CAD), including shipping, just like its stand-alone bookshelf equivalent. Special real-wood veneers and paintable finishes are optional extras.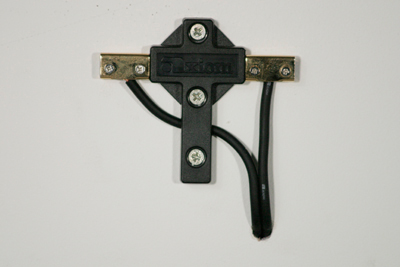 Power Bracket
In developing the new On-Wall series, Axiom president and founder Ian Colquhoun noted: "Mounting speakers on the wall is a very convenient and esthetically pleasing option for a lot of rooms. Not everyone can or wants to cut big holes in their walls to accommodate an in-wall design. Our new lineup of on-wall versions of our bookshelf models allows this to be easily accomplished. In the acoustical design we were also able to adjust for the boundary effect of the wall behind the speaker, which is not possible with a bookshelf speaker since you never really know how it is going to be installed."
The new on-wall series continues the Axiom tradition of neutral, uncolored sound quality with transparent highs and a natural midrange.