Axiom Audio Epic Accent 125
---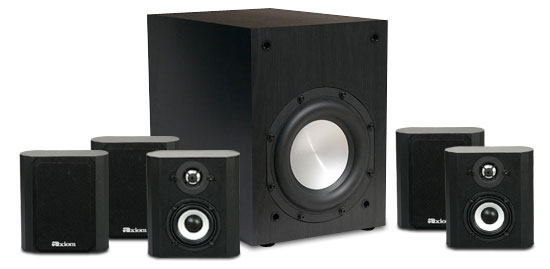 Axiom Audio Epic Accent 400
Compact Innovative Accent Sat/Sub Surround System Features Five M0 Speakers
Axiom Audio, a world leader in quality loudspeaker manufacturing, today announced the debut of the Axiom Accent, a decor-friendly group of five identical M0 on-wall satellite mini-speakers plus a subwoofer that will retail for less than $1,000.00 USD.
The challenge that Axiom faced was how to design a small, inconspicuous and attractive wall-mountable mini-speaker and still not make significant compromises in Axiom's well-known neutral, detailed and musical sound quality. Extensive double-blind listening tests were conducted against larger Axiom speakers to arrive at the natural musical balance that distinguishes the Accent system.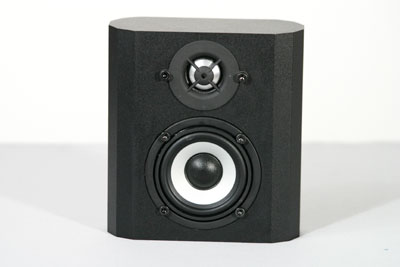 The M0 mini-speaker's dimensions are only 6.5 inches tall by 6.1 inches wide and 2.3 inches deep and it weighs just 2.94 lbs (1.34 kg). Each M0 uses a 3-inch aluminum-cone woofer/midrange driver and a 1-inch titanium-dome tweeter to achieve a smooth frequency response of 160 Hz to 20 kHz, +/-3 dB. A choice of subwoofers extends the Accent system's response to deep bass regions: The EP125 (included in the under-$1,000 system) will do a fine job in rooms of moderate size, dens or bedrooms, but enthusiasts who want deeper and more powerful bass can step up to the DSP-controlled 500-watt EP400, which is a no-compromise performer in a small package. The Accent M0 is an easy 8-ohm load for any AV receiver and can be driven with amplifiers with as little as 20 watts per channel up to 150 watts. All brackets, mounting templates and screws are included in the price, which also includes free shipping anywhere in the U.S.A, Canada, Hawaii, and Alaska.
Among its innovations, the Accent M0 mini-speaker includes a dedicated wall-mounting bracket that serves as the electrical connection to the speaker wire (the cables attach to a clamp on the bracket) so that when an Accent is pushed down onto the bracket, electrical connection is made. The latter arrangement lets the Accent's rear baffle mount truly flush with the wall surface for a smooth, self-effacing appearance.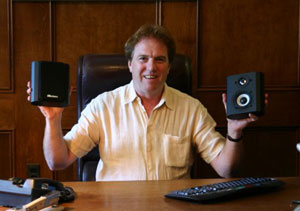 Axiom President Ian Colquhoun with the new
Accent Satellite Surround System
Reached at Axiom Audio's factory in Muskoka, Ian Colquhoun, president and founder of Axiom stated: "the idea of designing a micro system that could overcome all the inherent problems created by small size has been a challenge I have wanted to address for quite some time. The reality is that many people do not have the budget, space, or 'decorator's' approval to install a full-sized theater system. We felt we should address this with a really compact and affordable system that would please anyone concerned about the physical presence of six speakers in a room. And with Axiom's wide selection of custom real-wood and stock finishes, the Accent systems can be configured to blend in with any room decor. We did a lot of work to get this system to meet our rigorous criteria for musical, detailed and transparent sound quality with strong dynamics that have been established by our larger bookshelf and tower speakers. We're confident that the Accent system will bring the undeniable pleasures and thrills of great surround sound and music to a new audience of customers."
Prices:
All pricing includes free shipping, mounting brackets and hardware.
About Axiom Audio:
Axiom Audio has been designing, engineering and manufacturing award-winning high-end, high-value loudspeakers since 1980. The company's products feature transparent, wide-range sound developed through double-blind listening tests and extensive research. As a testament to its emphasis on quality design, Axiom Audio's loudspeakers have received multiple Product Of The Year honors from the Consumer Electronics Show as well as virtually every major audiophile media source. A 100% Internet-based company, privately-owned Axiom Audio services a worldwide customer base from its headquarters and manufacturing facilities situated in the unspoiled Muskoka district of Ontario.