Plays Back Videos, Photos, Music and Streams Online Video Content Directly to Your TV
AVerMedia Technologies announced the AVerLife ExtremeVision — a multifunctional wireless media player, which features an array of options for playing video, audio and photos to your TV.
With the included wireless USB adapter, users can easily connect to the internet and access content from online sources such as YouTube, Google or Facebook, or listen to their favorite online music directly on their TV. Installation and navigation are a breeze with its user-friendly interface. Keyboard and mouse support lets you effortlessly access the built-in browser and surf the web instead of having to use a remote control or on-screen keyboard.
"With multimedia becoming such an integral part of our daily lives, consumers tend to look for mediums in which they are able to enjoy the photos taken from last month's vacation or recently purchased music or movies," said Stephen Dix, vice president of sales, Multimedia Division at AVerMedia Technologies. "The new AVerMedia ExtremeVision media player lets you share your digital life right in your living room, and it's so easy to use, you don't have to be very tech savvy to have an ultimate digital home entertainment experience."
The AVerLife ExtremeVision includes two USB ports, e-SATA and 10/100/1000 Ethernet. It supports 1080p HD video and features simultaneous playback options for photos and music as well as the ability to allow other entertainment devices to share content across a home network. With this feature there is no need to transfer content, simply set up the network to begin wirelessly accessing files from multiple PC storage devices. You also can add RSS feeds and internet radio stations with its Favorite Channel Library option. The GoTo function enables users to begin watching a video at any point of the video.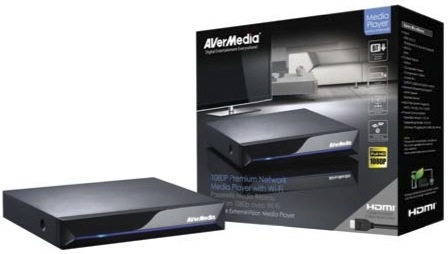 AVerLife ExtremeVision supports the following Digital Audio/Video file formats:
Video: MPEG1/2/4 / H.264 / VC1, Xvid / WMV9
Audio: WMA / WMA9 / WMA-Pro / MP1 / MP2 / LC-AAC / HE-AAC / OGG / WAV / PCM / LPCM / DTS / Dolby Digital / Vorbis / FLAC / MPA / M4A / MKA / DTS-HD (Pass Through) / Dolby True-HD (Pass Through)
Photo: JPG / JPEG / BMP / PNG / TIFF / GIF
Content: AVI / AVC(HD) / WMV9 / Xvid / ASF / DAT / FLV(H.264) / IFO / ISO / M1V / M2T / M2P / M2TS / M2V / M4V / MKV / MOV / MP1(VCD) / MP2(DVD), / MP4 / MPEG / MPG / MTS / PS / TRP / TS / TP / VOB / WMV-HD / WMV
Internet: Web TV/Radio / iMedia (Live365 / SHOUTcast / Flickr / Customize) / RSS Feed (RSS News) / Web Browser (e.g. Google / YouTube / Facebook, etc.)
Input Source: USB 2.0 x 2 (Keyboard & Mouse Support) / e-SATA / LAN
Output Source: HDMI / Composite Video / Component Video / Audio R/L / S/PDIF (Optical Digital Audio)
Multi-Media Support: UPnP Server / Samba Server
HDD File System Support: NTFS/ FAT32/ FAT/ EXDT3
Pricing and Availability:
The AVerLife ExtremeVision is available for an MSRP of $209.99.
Datasheet (pdf)