22-inch AIO is Space-Saver for Office, Home or Dorm
TriGem USA today announced the Averatec 22-inch D1005 all-in-one (AIO) computer, rounding out the company's lineup of powerful all-in-one PCs. With an MSRP of $799, the D1005 is an ideal system for business or home users and college-bound students who need a PC with full functionality while enjoying the benefits of a space-saving design.
"Our latest offering was designed with the college student and business professional in mind," said Henry Hewitt, vice president of sales at TriGem USA. "Its sleek design and small footprint make it an attractive system to sit on top of your desk without taking up a lot of space. As people downsize their office space and college students head back to the dorm, saving valuable desktop real estate is top of mind.
"In addition, its ability to serve as a multimedia center makes it a great choice for those looking for a PC that can do 'double duty.' Its powerful dual-core processor, ability to play video at true 1080p resolution, and built-in megapixel webcam combines all the applications consumers are demanding these days."
The new 22-inch Averatec D1005 AIO features a 2.5GHz Intel Pentium dual-core E5200 processor, 320GB hard drive, 3GB of memory, Microsoft Vista Home Premium and a full-size USB keyboard and mouse.
TriGem USA has become known for its space-saving AIO designs with recent launches of the 25.5-inch D1205 and the 18-inch D1133 AIO computers. Hewitt noted that Averatec gauges consumer demand very closely to ensure that design features are incorporated into future AIOs.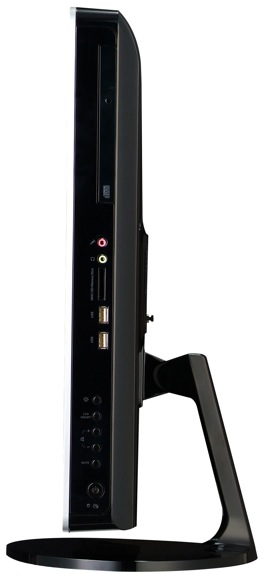 "We are evolving into a multi-tasking society, demanding more of technology to address everyday necessities. For this reason, TriGem has incorporated powerful features into its AIO designs which enables consumers to place their systems in any location where daily PC use is desired by a family, student or small business."
The Averatec D1005 is a versatile computer that can be used for everyday Web browsing, social networking, home and business software applications and games, plus users can enjoy viewing YouTube videos and other on-line or streaming video entertainment. The system features built-in WLAN wireless 802.11n networking as well as wired 10/100/1000 Mb/s network connectivity.
Specifications — Model D1005
| | | |
| --- | --- | --- |
| Processor | | Intel C2D E5200, 2.5GHz |
| Screen | | 22″ WXGA |
| Memory | | 3GB DDR2 (expandable to 4GB) |
| Hard Drive | | 320GB SATA |
| Optical Drive | | DVD Super-Multi (Slot loading) |
| Wireless LAN | | Intel 802.11n |
| Video Graphics | | Intel X4500HD |
| Wired LAN | | Built-in 10/100/1000 Mb/s LAN |
| Keyboard & Mouse | | Full-size wired USB |
| Webcam | | 2.0 megapixel |
| Dimensions | | 20.9″(W) x 8.8″(D) x 18.5″(H) |
| OS | | Vista Home Premium |
| MSRP | | $799 |
About TriGem USA
Based in Orange County, Calif., TriGem USA, Inc.is a leading provider of innovative electronic products and is dedicated to delivering the highest quality products backed by superior service. TriGem has been recognized with numerous editorial awards for its high-value product lines. Its products reach all market segments, including corporate, small business, education and home, and are sold through major national retailers and online retail partners.