AudioControl, the company who pioneered audio and video over CAT-5/6, is releasing the latest addition to their Active Balanced family, the BVHD-10, a highly anticipated HDMI solution. The BVHD-10 is composed of the HDD-10 sender and HDR-10 receiver which allows for the extension of HDMI v1.3 signals up to 150 feet over dual standard CAT-5/6 cables. By utilizing CAT-5/6 wiring this allows for more flexibility in the installation and offers a much more affordable and compact solution than attempting to use standard expensive HDMI cable.
"Custom Installers are begging for solutions to their many HDMI dilemmas," points out Chris Kane, AudioControl's National Sales Manager. "AudioControl pioneered sending audio and video actively over CAT-5 nearly a decade ago, providing solutions to distance obstacles. Our new BVHD-10 will do the same for HDMI, allowing users to overcome HDMI's distance limitations and wire-pulling challenges."
To address the complexities of extending HDMI signals, the BVHD-10 utilizes a unique adaptive equalization technique that provides for automatic signal restoration of the video channels.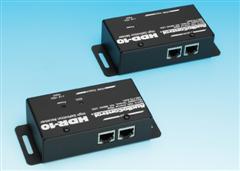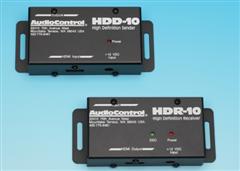 "When it comes to HDMI, our testing has shown that given the complicated nature of sending high speed digital video, transmission errors anywhere in the system accumulate," explains Tom Walker, AudioControl's president. "Therefore wire integrity, routing and proper restoration of the video signals is critical. Additionally we have equipped the BVHD-10 with a unique Data Display Channel (DDC) correction circuit that insures that the HDMI signal is accurate on the outputs. An LED indicator takes the guesswork out of trouble shooting by indicating when there is a fault in the system."
The BVHD-10 can extend HDMI 1080p signals up to 150 feet using standard dual Cat-5/6 cables. In addition signals of 480p, 720p, and 1080i can be extended 200 feet and further. The BVHD-10 system is HDCP compliant and works with HDMI v1.3. The BVHD-10 accepts the HDMI 1.3 source via a screw mount locking HDMI input, which the HDD-10 then sends over dual Cat-5 cables to the HDR-10, located at the receiving end. The HDR-10 then outputs the signal in HDMI 1.3 without signal loss, disturbance, or degradation. The units share a 12-volt power supply, which can be attached to either of the units (only one power supply is needed per pair).
The BVHD-10 will have a suggested client price of $400 for both the sender and receiver with first shipments to begin in early Spring of 2008.
AudioControl is a U.S. designer and manufacturer of highest-quality home and car audio components, logging more than 30 years into the pursuit of perfect audio. The company's headquarters, including research and development, manufacturing, production, and training facilities continue to thrive in Mountlake Terrace, Washington; heart of the rainforest of the Pacific Northwest.
For more information about AudioControl's full line of performance distributed audio components, visit their website at www.audiocontrol.com.
AudioControl, Active Balanced Technology, BVHD-10, HDD-10, HDR-10, BLD-10, BLR-10, and "For Those Who Consider Perfection Possible" are trademarks of Electronic Engineering and Manufacturing, Inc.