STOW, OH, September 22, 2008 '" Audio-Technica today announced the introduction of a new lineup of on-ear and over-ear headphones for the consumer market. The headphones offer the clear and natural sound that is built into every Audio-Technica product, and are available in a wide variety of styles for everyone seeking the very best in personal music listening.
The new models include the ATH-ON3A, ATH-ES3A, ATH-FC700A and ATH-ES7 on-ear headphones, and the ATH-SQ5A over-ear designs. Suggested retail prices range from $59.99 to $169.99 each, and all models are currently available.
The headphones are all engineered for exceptional sound quality, and incorporate high-performance features such as high-efficiency drivers and premium-quality internal components and wiring to deliver deeper bass, a detailed, accurate midrange, clear, extended treble, and outstanding dynamic range and impact.
The headphones are designed for maximum comfort and easy portability, featuring soft, padded ear cushions that provide long-wearing comfort, along with maximum acoustic isolation. The headbands are made with lightweight, flexible material that adjusts to provide a secure, comfortable fit.
Following is an overview of the new on-ear and over-ear Audio-Technica headphones.
ATH-ON3A (SRP: $59.99) '" The ATH-ON3A delivers expansive sound from a unique and stylish design. Slim and ultralight, it utilizes rare-earth magnet drivers to deliver dynamic and natural sound from any music source. The on-ear headphones fold flat for easy storage, and are available in black.
ATH-ES3A (SRP: $79.99) '" Premium aluminum housings and headband give these on-ear headphones great looks and durability, and its large-diameter neodymium-magnet speaker drivers provide exceptional sound. Available in black or silver, the fold-flat ATH-ES3A comes with a durable travel bag for easy portability.
ATH-FC700A (SRP: $99.99) '" These lightweight, ultraportable on-ear headphones deliver the full spectrum of high-fidelity sound '" and they're available in a variety of appealing colors including red, purple, white and black. Designed to deliver superior audio quality, the ATH-FC700A's incorporate powerful drivers and neodymium magnets for rich, pure sound with outstanding clarity and full-range frequency response. They are supplied with a durable travel pouch, a 1.6-foot cable and a 3-foot extension cable.
ATH-ES7 (SRP: $169.99) '" Featuring a sleek, stainless steel design, these on-ear headphones are perfect for audiophiles. Available in black or white, they feature 42 mm drivers with high-efficiency neodymium magnet systems and copper-clad aluminum-wire (CCAW) voice coils, to deliver high-resolution sound with extraordinary bass, midrange and treble reproduction, imaging, and dynamic impact. Their padded ear cushions provide unmatched comfort and maximum acoustic isolation.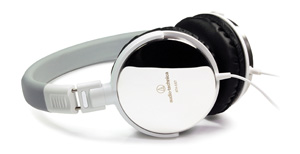 ATH-SQ5A (SRP: $149.99) '" These uniquely designed headphones feature rectangular-shaped earpads with advanced-technology drivers that deliver clear and natural, true studio-quality sound with extended frequency response. They combine exceptional performance with total comfort, thanks to their generously cushioned earpads, and a headband that extends and contracts for a customized fit. The ATH-SQ5A includes a 1.6-foot cord with a three-foot extension cord.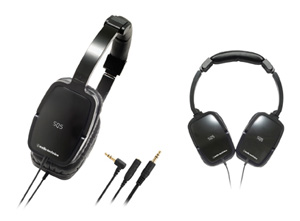 Celebrating over 45 years of audio excellence, Audio-Technica is renowned worldwide for a broad range of consumer and professional audio products, including high-performance headphones, microphones, wireless systems, turntables and phono cartridges. Winner of numerous industry awards, Audio-Technica designs and manufactures products that set quality, durability and price/performance standards for major concert tours, broadcast and recording studios, corporate and government facilities, theaters, house-of-worship venues, and consumer applications. Learn more at www.audio-technica.com.
'" For more information on the complete range of Audio-Technica products, contact
Karen Emerson, Audio-Technica U.S., Inc., 1221 Commerce Drive, Stow, OH 44224.
Tel: (330) 686-2600; Fax: (330) 688-3752; Web: www.audio-technica.com
'" For further information regarding product availability and pricing in the United Kingdom, please contact Denise Burnage (dburnage@audio-technica.co.uk); in Germany, please contact Anja Groth (a.groth@audio-technica.de); in the rest of Europe, please contact Evangeline Pirot (epirot@audio-technica-europe.com).