Atlantic Technology introduced the SB-900DF, a new down-firing version of the SB-900 subwoofer to provide greater placement flexibility. By placing the woofer and bass vent on the bottom of the speaker cabinet, the new SB-900DF can be squeezed into tight spots behind furniture with no concern of its output being muffled by the back of furniture as might be the case with the original SB-900 front-firing subwoofer. The down-firing design also takes advantage of the acoustic phenomenon of 'floor coupling,' which reinforces the subwoofer's bass response and makes the SB-900DF perform like a much larger unit.
While the new Atlantic Technology SB-900DF is relatively small, its deep, low distortion bass is fast and muscular. The 8-inch long-excursion woofer has an oversized surround and high-energy magnet. When combined with the tuned bass port and powerful 125-watt power amplifier, the system delivers high output levels and exceptional low-frequency extension down to 32 Hz, -3 dB, which is the lowest fundamental note in the musical spectrum. Proprietary distortion-detection circuitry prevents the system from emitting objectionably-distorted sound no mater how hard it is pushed.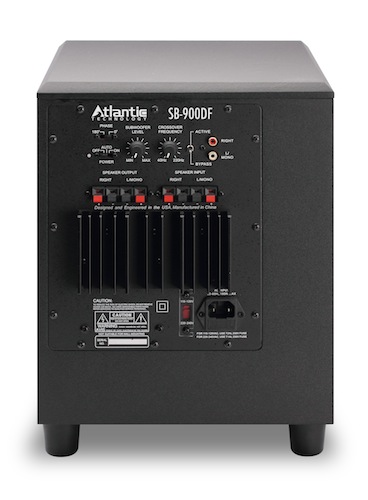 The SB-900DF also has a range of tuning controls that improve the system's interaction with the room. These controls include an adjustable crossover that allows fine-tuning of the level and crossover frequency, and a phase switch. A built-in crossover bypass allows it to be used with external bass management systems. Auto-on sensing saves power and the need to manually turn it on and off.
The Atlantic Technology SB-900DF has a peak output of 102 dB SPL in a 2000 cubic foot room and a frequency response for 32 to 200 Hz, ±3 dB. The black-finished cabinet measures 10-7/8 wide, 13-1/8 high, and 13-1/16 deep, and weighs 28 lbs.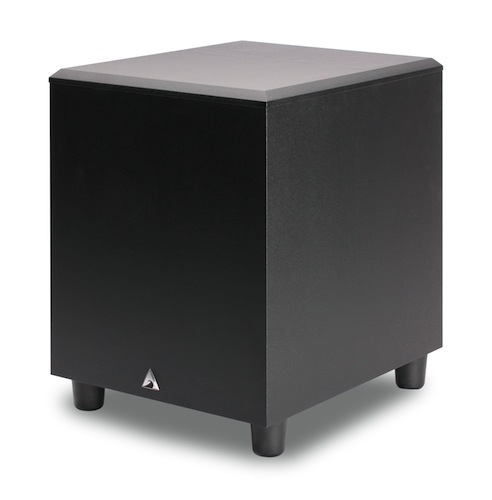 Price and Availability
Both subwoofers are available now for the same price: