Atlantic Technology Ships Industry's First THX Select2 Loudspeaker – the In-Wall, Sealed Enclosure IWCB-727
Atlantic Technology has begun shipping its THX Select2 Certified IWCB-727 in-wall loudspeaker system. This is the first loudspeaker of any format to earn the new THX Select2 certification, which uses more stringent measurement standards than the earlier THX Select standard, and is the top-of-the-line model in the company's acclaimed IWCB series of sealed-enclosure in-wall speaker designs.
"Everyone who has heard our current In-Wall Closed Box series has been knocked out by them," said the company's president, Peter Tribeman, "They have defined a new level of in-wall speaker performance with their solid, sealed MDF enclosures, their ease of installation, and their incredible placement flexibility. Now, we've taken the IWCB's to a new level with the THX Select2 Certified IWCB-727. The 727 is like a world-class athlete with all the right moves: fast, powerful, and adaptable to virtually any situation."
The Atlantic Technology IWCB-727 draws on the company's 15 years of experience designing to THX's rigorous standards for theater sound and a decade of experience with the design and manufacture of high-performance in-wall speakers. It offers consumers home theater sound quality that is superior to many floor-standing speaker systems and includes features that provide greater installation flexibility. Foremost among these are Atlantic's exclusive Low Resonance Tweeter (LRT™) and Directional Vector Control (DVC™) which electronically aims the soundfield for optimal performance when the speaker is mounted above or below listening height.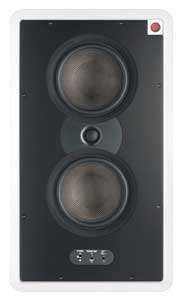 Atlantic Technology's IWCB-727 is a 2-1/2-way design with two 6-1/2-inch carbon fiber woofers and a 1-inch Low Resonance Tweeter (LRT) mounted in a sealed MDF enclosure. The sealed enclosure allows all the elements to be perfectly tuned for ideal performance by eliminating the acoustic variability of open-back designs where performance depends on the characteristics of the wall cavity. The Low Resonance Tweeter's frequency range extends further down into the mid-range frequencies than conventional tweeters to provide smoother and wider dispersion.
Like the rest of Atlantic Technology's IWCB line, the IWCB-727 includes a trio of acoustic controls to allow installers to tailor performance to the listening room. The first of these is the DVC™ (Directional Vector Control), which electronically directs the radiation pattern of the tweeter up or down without the mechanical or acoustic compromises of a 'pivoting' tweeter assembly. Secondly, there is a High Frequency Energy switch to enable installers or listeners to adjust tweeter level for rooms that are acoustically bright or dull. The final acoustic control is a Boundary Compensation toggle, which can be used to adjust the lower-midrange output to compensate for the sound colorations that occur when the speaker is placed too near a ceiling or side wall.
For simplified installation, the grille/frame assembly for the speaker is sold as separately, making it simple to install and paint the frames and grilles first, adding the speaker assembly once finishing is complete. Each speaker also includes an IR knockout, making it simple to integrate remote IR sensors into the speaker front plates. The entire IWCB line uses just three models of GFR (grille/frame assemblies) which dramatically simplifies stocking for installers.
The Atlantic Technology IWCB-727 THX LCR is currently available at a suggested retail price of $1000 each ($925 for the speaker and $75 for the separate GFR-626/727 Grille/Frame assembly.)
From its inception in 1989, Atlantic Technology's mission has been to produce home entertainment products that exemplify the very best in both performance and value. The company specializes in complete high-performance multi-channel speaker systems, state-of-the-art home theater electronics components, and products for custom audio/video installation. For more information on Atlantic Technology and its many fine products for home theater and custom audio/video installation, visit www.atlantictechnology.com or call 781-762-6300.