Atlantic Technology is now shipping the AT-2 compact bookshelf loudspeakers which use H-PAS bass technology to produce much higher levels of deep, low distortion bass than is possible with conventional speakers of the same size. This is the same technology that is used in the company's AT-1 floor-standing speaker.
The new Atlantic Technology AT-2 is less than 16 inches tall and has an interior acoustic volume of less than 2/3-cubic foot, yet it delivers full, rich bass response down to 41 Hz at -3dB, which equates to exceptional bass performance for such a small speaker.
The Atlantic Technology AT-2 bookshelf loudspeaker uses a single 5-1/4-inch long-excursion woofer and the same 1-1/8-inch Low Resonance Tweeter (LRT) that is used in the AT-1. It has a crossover frequency of 2,200 Hz, which is much lower than most conventional two-way speakers, affording much wider horizontal midrange dispersion.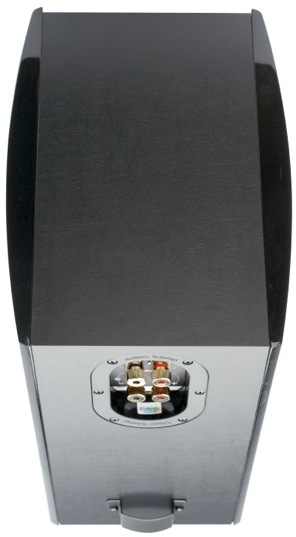 The AT-2's H-PAS design allows it to reach down farther into the bass region than a listener would ordinarily expect. Atlantic Technology designed the AT-2 to deliver excellent, virtually full-range musical performance in small to medium-size rooms.
Atlantic Technology's designers also put as much energy and effort into the tweeter and midrange voicing as they did for the H-PAS portion of the speaker. The AT-2 uses an advanced 1-1/8-inch Low-Resonance Tweeter (LRT) that affords a somewhat lower crossover frequency (2200 Hz) than is normal in a two-way system. This frequency is both low enough to afford very wide midrange dispersion and high enough to keep the tweeter out of thermal/mechanical danger. Additionally, the aluminum rear chamber functions as a very effective heatsink to keep the tweeter cool, even though it's receiving a significantly higher drive current than a conventional tweeter would with a 3000-4000 Hz crossover.
The result is exceptionally wide dispersion through the midrange without the upper-midrange "beaming" normally exhibited by woofers in a two-way speaker. The tweeter's oversized 4 mm textile surround–rarely, if ever, found in a tweeter–allows for long excursion, and very high power handling. As innovative as the H-PAS design is in the bass region, the AT-2's tweeter is equally impressive in the higher ranges.
All the AT-2's crossover components are the very highest quality, and adhere to strict 1-percent value tolerances to ensure the best sound possible. The surprisingly heavy cabinet is heavily braced for rigidity and acoustic inertness. Engineers used advanced cabinet accelerometer measurements, coupled with exhaustive listening evaluation, to finalize the bracing design. The cabinet dimensions are 8-3/4 inches wide by 15 5/8 inches high 12-1/4 inches deep (222 x 396 x 310mm).
The metallic speckle gloss black paint process is quite similar to that used in the automotive industry. It is a multi-layer finish, with the "sparkles" being in the middle, under 2 or 3 layers of clear-coat finish. The designers tried for a subtle effect: one that looks like regular gloss black from a distance, but has the additional character and interest of the sparkle when viewed up close. The bottom panel of the speaker has a standard 1/4-inch threaded insert to secure it firmly onto better audiophile speaker stands that use a through-bolt in their bottom plate.
Specifications
Type
H-PAS Hybrid Pressure Acceleration System, 2-way
Woofer
5-1/4″ (135mm) long-excursion GLH (Graphite Loaded Homopolymer) cone
Tweeter
1-1/8″ (28mm) low-resonance soft dome with 4mm oversize long-throw surround and integral back chamber/heatsink
Frequency Response
41-20kHz, ±3dB
Nominal Impedance
6 ohms
Crossover Frequency
2.2kHz
Crossover Type
Parallel, 2nd-order LP, 3rd-order HP
Sensitivity
88 dB
Recommended Amplifier Power
20 – 150 Watts RMS
Dimensions w/ grilles (W x H x D)
8-7/8 x 15-5/8 x 12-5/8″
227 x 397 x 321mm
Weight (ea)
23 lbs (10.4 kg) ea.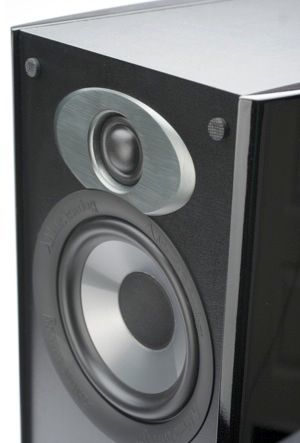 "Atlantic Technology's H-PAS algorithm has worked beautifully as we scaled it down to the much smaller cabinet of the AT-2," said Atlantic Technology's president, Peter Tribeman. "These new bookshelf speakers are going to have lots of people looking futilely for a hidden subwoofer."
"H-PAS is a new speaker technology that is defined by a rather complex mathematical formula," continues Tribeman. "Since the early days of loudspeakers, audio engineers have used the mathematics of sound to design speakers with a vast array of different cabinet types. While H-PAS may seem to resemble other kinds of enclosures, it is quite different. The H-PAS formula that was devised by our engineers is unlike anything we've encountered before to define such known types as acoustic suspension, reflex, transmission line, and so on."
Price and Availability
The Atlantic Technology AT-2 loudspeakers are now available for $1,800 per pair.