H-PAS Technology Achieves Deeper Bass From Slimmer Cabinets
Atlantic Technology will introduce the model AT-1, the first production speaker to utilize the revolutionary H-PAS™ bass technology developed jointly by the company with Clements/Solus Loudspeakers. H-PAS is a breakthrough acoustic technology that allows speaker designers to achieve targeted bass performance with 50 percent smaller cabinets, smaller drivers, and lower costs. The technology was first publicly demonstrated in prototype form at the CEDIA Expo in September.
"We are particularly pleased with the final design of the Atlantic Technology AT-1 and how well it conforms to the calculated performance of the H-PAS matrix," said company president, Peter Tribeman. "It retains the compact size and attractive appearance of the prototype we showed last fall, but has more acoustic weight and a more commanding, and authoritative sound. The AT-1 is uniquely well-suited to both music and home theater roles, and is equally at home in virtually any sized room."
The patent-pending H-PAS system (Hybrid Pressure Acceleration System), combines elements of several speaker technologies: bass reflex, inverse horn, and transmission line. Using a unique cabinet design, these technologies are cascaded one to another to pressurize and accelerate low frequencies. In addition, the signals travel through a passive resonance/harmonic distortion line filter to further clarify the sound. H-PAS does not require the use of special drivers, any kind of on-board electronics or outboard equalization — it is a purely passive system, completely compatible with all amplifiers and AV receivers. As a result, the H-PAS design delivers extended deep bass, with high output levels, and exceptionally low harmonic distortion.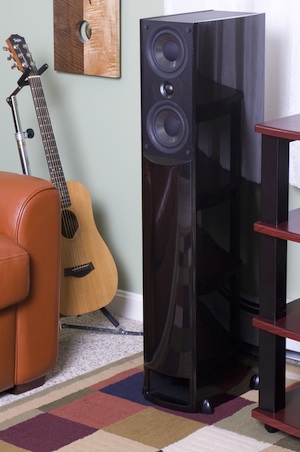 The Atlantic Technology AT-1 utilizes two 5 1/4-inch drivers in an enclosure of approximately 1.6 cubic feet to produce bass that extends to 29 Hz (-3dB) at Sound Pressure Levels that exceed 107dB. Bass harmonic distortion is under 3 percent. Comparable performance in a conventionally designed loudspeaker system would require bass drivers of at least triple the size in an enclosure at least twice as large.
The AT-1 also uses an exceptionally advanced 1-inch Low-Resonance tweeter that affords a lower crossover frequency (2000 Hz) than is normal in a two-way system. The result is exceptionally wide dispersion through the midrange without the upper-midrange "beaming" normally exhibited by woofers in a two-way speaker.
All the crossover components are of the very highest quality, and adhere to strict 1 percent value tolerances, to assure the best sound possible. A remarkably innovative cabinet bracing architecture, called CDFF™ (Cross Design Free Flow), lends the cabinet great rigidity and inertness, without restricting the critical internal airflow that is so important to the H-PAS's remarkable bass response. This new bracing configuration was the result of Atlantic's advanced computerized cabinet vibration analysis coupled with critical listening tests.
The Atlantic Technology AT-1 speaker is finished in a gloss-black metal-flake paint, applied in a multi-coat process and polished for a luxurious appearance. The first deliveries are expected by the end of the first quarter 2010 with an introductory retail price of $1,995 per pair.
Atlantic Technology AT-1 Preliminary Specifications

Type:
H-PAS, 2-way
Woofers:
2 — 5 1/4″ (135mm) long-excursion GLH cone
Tweeter:
1 1/8″ (28mm) low-resonance soft dome with 4mm oversize long-throw surround and integral back chamber/heatsink
Frequency Response:
29-20kHz, +/-3dB
Nominal Impedance:
6 ohms
Crossover Frequency:
2kHz
Crossover Type:
Parallel, 2nd-order LP, 3rd-order HP
Sensitivity:
89dB
Recommended Amplifier Power:
20-200 Watts RMS
Dimensions: (W x H x D):
8 7/8 x 41 x 13 3/4″ (227 x 1041 x 348mm)
(Feet add another 1″ to Height)
Weight:
54 lbs (24.6 kg) ea.
About Atlantic Technology
From its inception in 1989, Atlantic Technology's mission has been to produce home entertainment products that exemplify the very best in both performance and value. The company specializes in complete high-performance multi-channel speaker systems, state-of-the-art home theater electronics components, and products for custom audio/video installation.