Atlantic Technology, the premiere manufacturer of home theater speakers and subwoofers, has introduced its newly redesigned SB line of powered subwoofers. The line includes a new, more powerful 350 watt version of the popular 642e SB, as well as three new models, all designed to deliver clear and precise deep bass reproduction in a wide range of home theater systems and room sizes.
224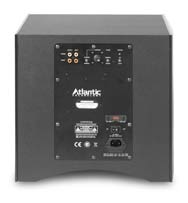 334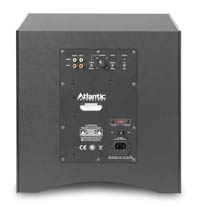 444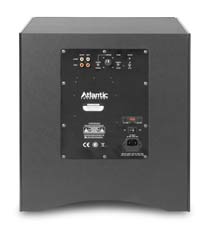 642se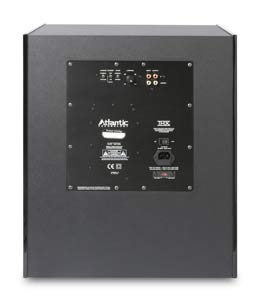 "This is a full line of subwoofers for home theater, but it is a range based on size rather than quality," comments Atlantic Technology Marketing Director Steve Feinstein. "Every model in our SB series is built to the same performance standards as the top-of-the-line. There are variations in amplifier and driver size to suit different theater sizes and listening preferences – but they all deliver the clean, articulate bass Atlantic has become famous for."
All models in Atlantic Technology SB line include low-resonance, long-throw composite cone woofers for powerful and precise output throughout the operating range. The series' high-current, low-distortion class AB amplification modules each incorporate Atlantic's exclusive Clear Filter Technology (CFT™) circuitry to eliminate adverse interactions between the driver and its enclosure. Finally, each model features a sealed acoustic suspension enclosure for smooth, linear response without the overemphasis of certain ranges and the sharp drop-offs that occur at the bottom end with many ported designs.
The Atlantic Technology SB Series each feature flush-mounted level controls conveniently located on the front panel of the enclosure. They include a complete range of connectivity, including two-channel line level inputs and level outputs for return to the processor, or for connecting more than one subwoofer. The 18dB per octave low-pass crossover in each model is continuously variable from 40Hz to 140Hz, and is also defeatable for instances where the system processor handles the crossover duties. A rear-panel phase invert switch is also included to allow for compensation of some deleterious room acoustic interactions.
The Atlantic Technology SB subwoofers all feature Atlantic's attractive, curved side panels and satin black finish. The THX Select-certified 642eSB, which continues in the line, will also be available in gloss black finish. A models will be available in late May at Atlantic Technology dealers.
The Atlantic Technology 224 SB, with a 10-inch cone woofer and 180 watt RMS amplifier, will carry a suggested retail price of $550; the 334 SB, with 10-inch cone and 220 watt amplifier, has a retail price of $750; the 444 SB, with 12-inch cone and 325 watt amplifier, has a retail price of $900; the revised 642e SB, with 12-inch cone and 350 watt amplifier, has a retail price of $1,200.
From its inception, Atlantic Technology's mission has been to produce home entertainment products that exemplify the very best in both performance and value. The company specializes in complete high-performance multi-channel speaker systems, state-of-the-art home theater electronics components, and products for custom audio/video installation.
Atlantic Technology speaker systems are designed and engineered as integrated multi-channel ensembles, and hand assembled at the company's Norwood, MA facility. These systems are tailored and tuned to provide a seamless and startlingly realistic soundstage for multi-channel music and home theater.
For more information on Atlantic Technology and its many fine products for home theater and custom audio/video installation, call 781-762-6300.
| | | | | |
| --- | --- | --- | --- | --- |
| | 642e SB | 444 SB | 334 SB | 224 SB |
| Bass Driver | 12″ long-throw | 12″ long-throw | 10″ long-throw | 10″ long-throw |
| Output Power | 350W RMS | 325W RMS | 220W RMS | 180W RMS |
| Amplifier Distortion | <0.5% | <0.5% | <0.5% | <0.5% |
| Frequency response (+/- 3 dB) | 25Hz – 300Hz | 25Hz – 250Hz | 30Hz – 250Hz | 34Hz – 250Hz |
| Low level (line) | 20k Ohms | 10k Ohms | 10k Ohms | 10k Ohms |
| Peak output | 107 dB SPL into 2000 cu. ft. | 105 dB SPL into 2000 cu. ft. | 104 dB SPL into 2000 cu. ft. | 102 dB SPL into 1500 cu. ft. |
| Dimensions (WxHxD) | 19 x 21 x 20.5 | 16.5 x 16.875 x 16 | 15.25 x 15 x 15.625 | 14.25 x 13.25 x 15.375 |
| Weight | 65 lbs. | 42 lbs. | 35 lbs. | 31 lbs. |
| Available finishes | gloss black / satin black | satin black | satin black | satin black |
| MSRP | $1,200 | $900 | $750 | $550 |