ASUS has announced the WiCast EW-2000 Wireless Full HD Transmission Kit, which can wirelessly send 1080p video and audio from a netbook, notebook or PC to any HDTV with a HDMI port.
Wireless HD Visual and Audio Playback
WiCast utilizes Wireless Home Digital Interface (WHDI) technology to wirelessly transmit high definition video and audio signals at 3Gbps from a user's notebook to a display TV or an LCD monitor. Sharing HD content in a meeting room or lecture hall has never been easier.
Latency Free
WiCast supports latency free (less than 1ms) transmission, providing users with fluid and stutter-free playback of HD content. Low latency prevents "lip-sync" issues and enables smooth delivery of HD content.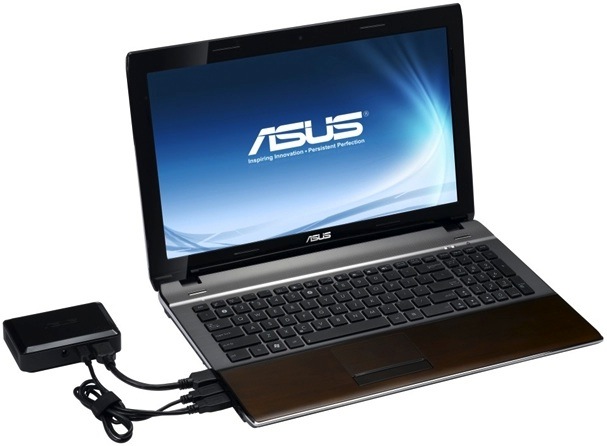 USB Powered
WiCast is USB powered, so there is no need for an extra adapter. Users simply plug the device into the HDMI port for a signal and two USB ports for power. This feature allows users to avoid the hassle of messy wires.
Omni-Directional Broadcast
WiCast supports a range of up to 33 feet, and WHDI transmission is not limited by directionality or line of sight. These features provide users in the education or business sector with more flexibility and convenience when connecting notebooks wirelessly with a projector to display presentations.
Small Package
At just over 4″ long (both the transmitter and the receiver), WiCast is small enough to virtually disappear behind a notebook or on top of a projector, eliminating clutter. It is lightweight at a mere 0.242 lbs. (transmitter) and 0.352 lbs. (receiver), making is easy to install. WiCast will be available later in September at $199 MSRP (US and Canada).
WiCast Specifications
Product
ASUS WiCast
Model
EW2000-NA
SKU
Transmitter, receiver
Color
Black
Interface
HDMI
Video
Up to 1080p 60HZ, under 1 ms latency
Audio
Up to 8 channels
Wireless HDMI Technology
WHDI
Transmission Distance
Up to 33 feet
Operation Frequency
5.15~5.85GHz
Data Rate
3Gbps
Power Supply
Transmitter: 5V, 2A 10W adapter (if USB power is not available)
Receiver: 5V, 2A 10W adapter
Power Consumption
Transmitter: 4.75W (powered by USB)
Receiver: 10W
Input/Output
Transmitter: 1 x HDMI port, 1 x mini USB, 1 x DC in
Receiver: 1 x HDMI port ,1 x DC in
Accessory
Transmitter: 1 mini USB cable, 1 x HDMI cable , 1 x adapter
Receiver: 1 x HDMI cable, 1x adapter
Weight
Transmitter: 0.242 lbs.
Receiver: 0.352 lbs.
Dimensions
Transmitter: 4.05 inches, (L) x 2.67 inches (W) x 1.12 inches (H)
Receiver: 4.13 inches (L) x 0.98 inches (W) x 4.9 inches (H)