Next-generation Mobile Gaming in a Strikingly-designed, Stealth Fighter-inspired Powerhous
The new ASUS Republic of Gamers (ROG) G73Jh is like no other gaming notebook. It excites your visual senses with design cues inspired by the Lockheed F117A Nighthawk Stealth Fighter. The G73Jh features a matte black exterior, cutting edge design, and dual angular 'heat exhausts' located at the back of the notebook.
Silent and Cool: Designed for Serious Gamers
The G73Jh sports a striking angular design. Far from being merely cosmetic, every facet of the G73Jh's design reflects ASUS' effort to improve the user experience. For example, the placement of the primary heat and noise-generating components at the rear of the notebook keep the heat and noise as far away from the user as possible. The G73Jh also brings a more comfortable gaming experience to mobile users, with a tapered 5-degree slant design for a more ergonomic wrist posture along with a cool palm rest area thanks to the unique rear venting design.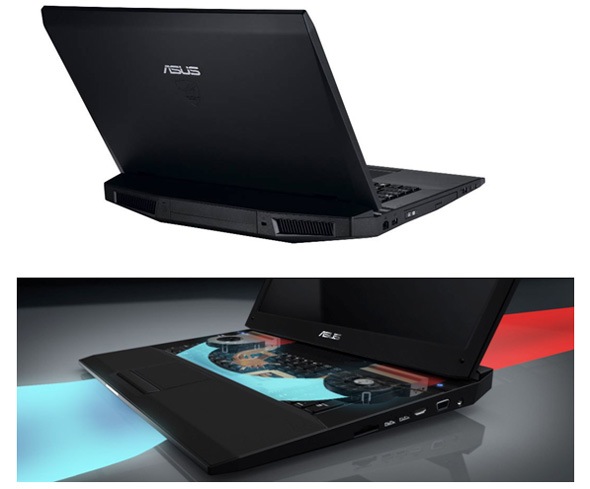 Specifications: Engineered for Top Mobile Performance
The G73Jh offers an aggressive specification that will exceed the needs of mobile gamers for a long time to come. The top-of-the-line model sports an Intel i7 Intel Core™ i7-720QM Quad Core processor, 8GB DDR3-1066, an ATI Mobility Radeon HD 5870 with 1GB GDDR5 VRAM, 802.11N / Gigabit LAN connectivity, Blu-ray / DVD-Super Multi Combo drive, 8-channel HD audio with EAX 4.0 compatibility and 1TB of storage space for incredible gaming and multitasking performance. The G73Jh also features one-click, on-the-fly overclocking capabilities and user controllable ambient lighting.