The Most Energy Efficient Motherboard in the World With Revolutionary Energy Saving EPU
Catering to users who need high performance and extreme overclocking features, ASUS, worldwide leader of the motherboard industry, has announced the release of the ASUS P5E3 DELUXE/WiFi-AP @n motherboard. The P5E3 Deluxe/WiFi-AP @n is an Intel X38 chipset-based motherboard that combines powerful performance with great energy efficiency; and supports DDR3 1800MHz dual-channel memory architecture and Dual PCI Express 2.0 x16 lanes for extreme performance. It also comes with the world's first ASUS EPU (Energy Processing Unit), allowing the CPU power supply to be digitally monitored and fine-tuned with improved VRM efficiency in heavy or light loadings — attaining the best possible power efficiency and energy savings to help save the environment. The P5E3 DELUXE/WiFi-AP @n also supports 802.11n WiFi specifications onboard for faster data transfers, and ASUS Express Gate — an optional Linux OS bootup for instant access to the Internet in 5 seconds.
58.6% CPU Power Savings with ASUS EPU
The ASUS-developed EPU is the first hardware-based on-demand power saving IC controller. This new generation automatic energy saving chip utilizes an innovative hybrid power technology to digitally monitor and fine-tune the CPU power supply with improved VRM efficiency in heavy or light loadings. By having real-time automatic detection of CPU current, it can provide total control under any loading and attain the best possible power efficiency and fantastic energy savings to help save the environment — automatically providing you with more power for higher performance and saving up to 58.6% CPU power when your PC is running low intensity applications.
95% Power Efficiency with Third Generation 8-phase Power Design
The industry-leading ASUS 3rd generation 8-phase VRM design provides up to 95% power efficiency in comparison to other solutions with poorer efficiency. Longer component life and lower power loss are ensured with industry leading high quality power components, such as low RDS (on) MOSFETs for minimum switching loss & lower temperature, Ferrite core chokes with lower hysteresis loss, and longer life Japanese-made conductive polymer capacitors.
Quickly Access the Internet with Express Gate
With only 5 seconds boot-up time, the ASUS Express Gate offers an optional boot-up selection that allows you to instantly surf the Internet without entering Windows. Users can now enjoy Skype, IM, YouTube, and webmail quickly and conveniently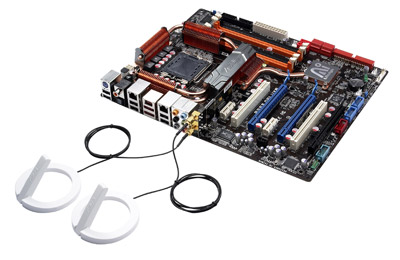 WiFi-AP @n Provides Superior Data Transmissions
With cutting-edge IEEE 802.11n draft technology onboard support, users will be able to enjoy wider network coverage and data transmissions of up to 6 times faster than 802.11b/g standards. With two antennas, wider network coverage is ensured, as well as superior signals than previous standards even after wall penetration. Users can now get online everywhere at home without blind spots!
About ASUS
ASUS is a leading provider of 3C total solutions. With a global staff of more than 100 thousand and a world-class R&D design team, the turnover for 2006 was 17.4 billion U.S. Dollars. ASUS has been ranked in Business Week InfoTech 100 for 10 consecutive years, and has been ranked No.1 by the Wall Street Journal Asia for best quality products in Taiwan.