Slimmest and Lightest Tablet Netbook with a Multi-touch Screen
ASUS launched the Eee PC™ T91MT, the world's first convertible tablet netbook to feature a multi-touch screen that supports Windows 7 Multi-Touch gestures. Particularly handy for students and professionals who need to take notes and make one-to-one presentations on a frequent basis, the slim and light Eee PC™ T91MT–which measures one-inch thick and weighs a mere 0.96kg–reproduces handwriting beautifully and allows users to perform tasks fluidly and intuitively with just their fingers. The Eee PC™ T91MT's multi-touch capabilities are further enhanced by a comprehensive suite of touch-optimized software that comes preinstalled. Designed for mobility, the Eee PC™ T91MT sports a shockproof 32GB Solid State Drive (SSD) and comes with an additional 500GB of online ASUS WebStorage.
Great for Casual, Creative and Collaborative Uses
The Eee PC™ T91MT's tablet form factor and multi-touch screen avail it to many uses. In slate form, it functions as a great e-reader, allowing users to read documents and books comfortably anywhere. In netbook mode, the Eee PC™ T91MT serves as an invaluable tool for discussions, as the screen can be swiveled to accommodate multiple users, as well as accept concurrent touch input from more than one source. With the Eee PC™ T91MT's multi-touch capabilities, free-flowing interaction between participants is now possible.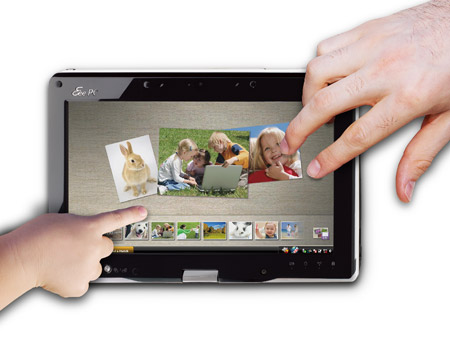 Puts Users in Touch with their Creative Sides
The Eee PC™ T91MT's multi-touch functionality makes interacting with the computer so intuitive and effortless, it encourages users to get creative. With its support for Windows 7 Multi-Touch gestures, virtually every task can be performed with a tap, drag, pinch or flick. Photos can be zoomed into, rotated and repositioned with the greatest of ease. Games can be controlled in a much more interactive way, and pages of documents can be flipped with fingers–just as they would be with a real book. Adding to the fun is a suite of touch-optimized applications known as TouchSuite. TouchSuite allows users to perform a myriad of tasks with their fingertips, including editing photos with FotoFun, taking notes with NotePad and scribbling handwritten reminders with Memos.
A Smooth Writing Experience
Equipped with a 256-level pressure sensor, the Eee PC™ T91MT's crisp and responsive 8.9″ multi-touch screen reproduces handwriting beautifully and accurately, regardless of whether a finger or the bundled ergonomically-designed stylus is used. Handwriting on a computer has never felt more natural.
Made for Mobility
The Eee PC™ T91MT is designed to accommodate and enhance mobile lifestyles. Built to withstand the rigors of day-to-day use, it is equipped with a shockproof 32GB SSD that prevents data loss in the event of accidental drops and shocks. It also comes with an extra 500GB of online ASUS WebStorage** which allows users to access, share and back up their files and media no matter where they are, through an easy-to-use drag-and-drop web-based interface.
Eee PC™ T91MT Specifications
Display
8.9″ glossy LED-backlit WSVGA screen (1024×600)
Operating System
Genuine Microsoft Windows 7 Home Premium
Genuine Microsoft Windows 7 Home Basic (China only)
CPU
Intel Atom™ Z520
Default Memory
DDR2 SO-DIMM 1GB
DDR2 SO-DIMM 2GB (optional)
Storage
Total 532GB
(32GB SSD + 500GB ASUS WebStorage**)
Wireless Data Network
WLAN 802.11b/g/n @2.4GHz, Bluetooth2.1 + EDR
Battery Life
Li-polymer Battery, 5 hrs*
Camera
0.3M Pixels
Audio Codec
Hi-Definition Audio CODEC
Speakers
Stereo Speakers
Built-in Mic
Digital Array Mic
Interface
1 (D-sub 15-pin for external monitor) VGA Connector, 2 x USB 2.0, 1 x LAN RJ-45, 2 x Audio Jack (Headphone / Mic-in), Card Reader: MMC/SD (SDHC); Disk Expander: MMC/SD (SDHC)
Optional
Digital TV
Dimensions
225mm (W) x 164mm (D) x 25.2~28.4mm (H)
Weight
0.96kg (with battery)
Colors
Infusion (IMF): White, Black
* Operation lifetime subject to product model, normal usage conditions and configurations.
** Complimentary one-year 500GB ASUS WebStorage trial.