Innovative Audio Solutions for Ultra-Thin Flat-Panel TVs
Artison is introducing its new thin attachable LCR DualMono® (LCR-DM) speakers. The lineup includes the new Masterpiece LCR-DM, as well as Portrait LCR-DM and Sketch LCR-DM models. The loudspeakers all feature "Easy Match Custom Grilles" that are sold separately and shipped within 48 hours. Artison's LCR-DM's have been completely re-designed to match today's ultra-thin flat-panel displays, providing a high-performance audio solution for discriminating home entertainment enthusiasts who want to enjoy a Total Involvement Experience. The new Masterpiece, Portrait, and Sketch LCR-DMs include grills and will be available in September 2010.
State-of-the-Art Audio That Literally Disappears into today's Ultra-Thin TVs
Artison's new attachable LCR-DM speakers deliver high fidelity performance audio with new driver technologies including Inverted Magnet Woofers for powerful and engaging audio. They function as seamless, nearly invisible additions to virtually any flat panel display.
The Masterpiece LCR-DM features leading-edge Curved Line Arrays utilizing eight 25 mm full range drivers. Curved Line Arrays combined with the Inverted Magnet Structure 5.5″ Long Throw Kevlar Midrange/Woofers; provides a low crossover frequency from the woofer to the midrange of 800 Hz, keeping all drivers in piston mode and reducing distortion. The Curved Line Array design controls the vertical dispersion pattern of the speaker and provides a wide horizontal pattern. All of the advanced sonic technologies in the Masterpiece LCR-DM work together to deliver the powerful, crystal clear audio that defines the Artison Total Involvement Experience.
Artison's Patented DualMono® Center Channel Technology
All LCR-DM speakers includes all three front-channel speakers (Left, Right, Center) in two slim enclosures utilizing Artison's patented DualMono® Center Channel technology, which projects crisp clear dialog in the center of the screen rather than above or below the set. Side-firing Stage Tweeters widen the soundstage giving the listener a more powerful Home Theater experience.
Cary Christie, founder, President and CEO of Artison, noted: "Today's flat panel TV owners are looking for a more engaging audio experience to complement their high technology video experience. They want cinema-like 'home theater,' and that means not just room-filling audio for special effects and music, but a system that brings everything together the way the director intended — with dialog coming from the center of the screen, where the actors' voices are coming from. Our new LCR-DMs are intended to allow for true audio/video integration and state-of-the-art sound — a Total Involvement Experience."
Super Easy Attachment, Seamless Aesthetic Match for Flat-Panel TVs
Artison's new LCR-DM speakers are designed for ease of use, performance and aesthetics. Custom integraters simply attach the speakers to their televisions using Artison's innovative Thin Universal Mounting Brackets, literally hiding them in plain sight. The driver complement for each new Artison LCR-DM speaker is as follows: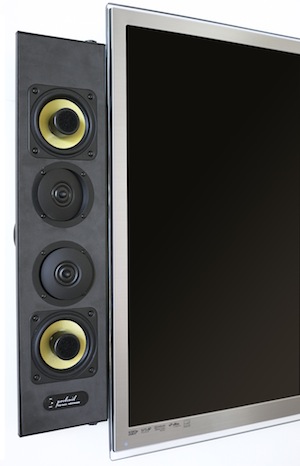 Masterpiece:
Two 5.5″ Kevlar, Long Throw Midrange/Woofers with Inverted Magnet Structure
Two Curved Line Arrays using eight 25mm Aluminum Full Range Drivers
One 25mm Silk Dome Stage Tweeter
MSRP: $2,800.00
Portrait:
Two 4.5″ Kevlar, Long Throw Midrange/Woofers with Inverted Magnet Structure
Two 25mm Super Audio Tweeters with Swivel Mount
One 25mm Silk Dome Stage Tweeter
MSRP: $2,000.00
Sketch:
Two 4.5″ Polypropylene, Long Throw Midrange/Woofers with Inverted Magnet Structure
Two 27mm Super Audio Tweeters
One 25mm Stage Tweeter
MSRP: $1,300.00
"Easy Match Custom Grilles" Made to Order and Shipped in 48 Hours
The new Artison LCR-DMs' "Easy Match Custom Grilles" are cosmetically matched for both the height and color of a user's flat panel TV. The Masterpiece LCR-DM may be installed flush with most displays above 55″ and as thin as 8mm deep, providing a seamless aesthetic effect. The Portrait and Sketch LCR-DMs are compatible with displays 46″ and larger. All custom grilles are made to order and shipped within 48 hours of purchase. For ease of installation, all necessary hardware and an Allen wrench are included in the speaker box. Custom installation professionals will also appreciate how easy the new attachable LCR-DM systems are to install, featuring a new thin UMB.
Reviews Around the Web:

artison ultra thin