On October 13, 2020 Apple announced four new iPhones. From smallest to largest there's the 5.4-inch iPhone 12 mini ($699), 6.1-inch iPhone 12 ($799), 6.1-inch iPhone 12 Pro ($999), and 6.7-inch iPhone 12 Pro Max ($1,099). All come with new 5G cellular technology, OLED screens, new MagSafe charging, and feature the all-new A14 Bionic chip. They're mostly differentiated in their dimensions and camera features. The Pro models have three cameras (wide, ultra wide and telephoto) and the others have two — dropping telephoto, which limits optical zoom. Each individual camera is the same, yet the Pro models are able to improve image processing especially for night portraits.
iPhone 12
iPhone 12 Pro
The first two models to hit store shelves (today) are the identically sized, 6.1-inch iPhone 12 and iPhone 12 Pro. With a $200 price difference, Pro buyers are mainly getting better photographic capabilities and double the storage. Both look nearly identical in a sleek new flat-edge design. The iPhone 12's enclosure is made of aerospace-grade aluminum while the Pro gets surgical-grade stainless steel. Both models have a precision-milled matte glass back and an incredibly durable Ceramic Shield front cover that claims to be tougher than any smartphone glass. Apple says it goes beyond glass and is infused with nano-ceramic crystals to dramatically improve toughness and increase drop performance by 4x or their predecessors, iPhone 11 and iPhone 11 Pro.
5G
Apple's 2020 iPhone 12 lineup brings 5G technology into iPhone for the first time. 5G on iPhone boasts improved speeds for faster downloads and uploads, higher quality video streaming, more responsive gaming, real-time interactivity in apps, FaceTime in high definition, and more. Customers will also be able to enjoy a secure, fast connection, reducing the need to connect to public Wi-Fi hotspots.
Models in the US support millimeter wave, the higher frequency version of 5G, allowing iPhone 12 to reach speeds up to 4Gbps, even in densely populated areas. However, actual speeds and availability may vary depending on wireless carrier. All iPhone 12 models also feature Smart Data mode, which extends battery life by intelligently assessing 5G needs and balancing data usage, speed, and power in real time.
"The arrival of 5G marks the beginning of a new era for iPhone and we're thrilled to bring these impressive new capabilities to our customers with iPhone 12. We're once again pushing the boundaries to deliver incredible computational photography advancements, Super Retina XDR displays, and the biggest leap in durability in iPhone history with the new Ceramic Shield front cover. Greg Joswiak, Apple's senior vice president of Worldwide Marketing
A14 Bionic
The Apple A14 Bionic is the first chip in the smartphone industry built on 5-nanometer process. Apple claims it's generations ahead of the competition, and has the fastest CPU and GPU by up to 50 percent compared to competing smartphone chips. Improved performance unlocks console-quality gaming experiences, powerful computational photography, and more, while still be able to deliver great battery life. Pushing the limits of machine learning (ML), A14 Bionic features a 16-core Neural Engine — for an 80 percent increase in performance — that is capable of completing 11 trillion operations per second, enabling improved performance on even the most intense ML models.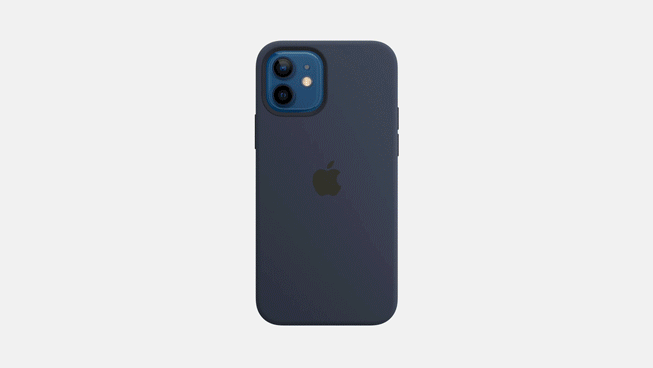 MagSafe
All iPhone 12 models are MagSafe wireless charging compatible, but the MagSafe charger doesn't come in the box. It's an extra $39 and optional since you can still use any lightning cable for charging or the included lightning to USB-C charging cable. However, Apple left out the USB-C wall plug that's another $19 to buy, because most users are likely to already have one and it saves Apple money on transportation costs.
MagSafe introduces an ecosystem of easy-to-attach accessories that beautifully complement iPhone 12 models. MagSafe delivers a unique experience to iPhone, featuring an array of magnets around the wireless charging coil, optimized for alignment and efficiency, that perfectly connects to iPhone every time. MagSafe chargers efficiently provide up to 15W of power, while still accommodating existing Qi-enabled devices. Charging solutions include the MagSafe Charger and MagSafe Duo Charger for use with iPhone and Apple Watch, as well as new silicone, leather, and clear cases that easily snap onto the back of iPhone, and a leather wallet. Customers can also expect innovative MagSafe accessories from third-party manufacturers.
Cameras
iPhone 12 Pro features the new seven-element lens Wide camera with an ƒ/1.6 aperture, the fastest ever on an iPhone, for 27 percent improved low-light performance in photo and video; the Ultra Wide camera with a 120-degree field of view, perfect for capturing more scene in tight spots or epic landscapes; and a 52 mm focal length Telephoto camera, great for framing portraits, bringing the optical zoom range to 4x. iPhone 12 forgoes the Telephoto camera, but still has a 2x optical zoom. Otherwise many more features are shared. Computational processing enables faster-performing Deep Fusion now on all cameras. Customers will experience brighter pictures and better contrast for photos shot in low-light settings with Night mode, and more texture and less noise in Deep Fusion photos. Smart HDR 3 uses ML to intelligently adjust the white balance, contrast, texture, and saturation of a photo for remarkably natural-looking images. Amazingly, iPhone 12 Pro Max has the best photographic prowess of the bunch.
Only iPhone 12 Pro models feature the new Apple ProRAW, coming later this year, which combines Apple's multiframe image processing and computational photography with the versatility of a RAW format. Users can experience full creative control over color, detail, and dynamic range natively on iPhone or with other professional photo editing apps.
Dolby Vision
All iPhone 12 models are the first to shoot HDR video with Dolby Vision and are the first and only device in the world to enable an end-to-end Dolby Vision experience, allowing customers to easily capture, edit, and share cinema-grade videos natively on iPhone. Dolby Vision grading is processed live while recording, and sustained during editing, whether in the Photos app or iMovie. And playback on iPhone 12 is more realistic than ever on the industry-leading Super Retina XDR display. Both models also now feature improved cinematic video stabilization, even more true-to-life selfie videos with Dolby Vision, and Night mode Time-Lapse, offering longer exposure times for sharper videos, better light trails, and smoother exposure in low-light scenarios when used with a tripod.
LiDAR
An all-new LiDAR Scanner comes to the Pro line, which first debuted in iPad Pro. This technology brings the ability to measure light distance and use pixel depth information of a scene. It delivers faster, more realistic AR experiences and improves autofocus by 6x in low-light scenes for more accuracy and reduced capture time in photos and videos. This advanced hardware, combined with the power of the Neural Engine of A14 Bionic, also unlocks Night mode portraits, rendering a beautiful low-light bokeh effect.
iOS 14
iOS 14 delivers a reimagined iPhone experience with new ways to customize the Home Screen. Beautifully redesigned widgets present timely information at a glance and can be pinned in different sizes on any Home Screen page. The App Library is a new space that automatically organizes all of a user's apps into one simple, easy-to-navigate view. iOS 14 also brings new ways to discover and use apps with App Clips, powerful updates for staying connected in Messages, greener ways to explore cities with Maps, and enhanced privacy features for even more transparency and control.
Price & Availability
iPhone 12 mini (pre-order Nov 6)

64 GB – $699
128GB – $749
256GB – $849

iPhone 12 (available now)

64GB – $799
128GB – $849
256GB – $949

iPhone 12 Pro (available now)

128GB – $999
256GB – $1,099
512GB – $1,299

iPhone 12 Pro Max (pre-order Nov 6)

128GB – $1,099
256GB – $1,199
512GB – $1,399
Optional Accessories (not included in the box, available now):