Apple® today unveiled a new 27-inch LED Cinema Display with stunning 2560 x 1440 resolution and 60 percent more screen real estate than the 24-inch LED Cinema Display. Featuring a built-in iSight® video camera, microphone and speakers, powered USB 2.0 hub, and universal MagSafe® connector, the new LED Cinema Display is an ideal companion for the MacBook® family or a Mac® desktop, and will be available in September for $999.
The new, larger 27-inch LED Cinema Display features a beautiful 16:9 edge-to-edge glass display on an aluminum stand with an adjustable hinge that makes tilting the display almost effortless. The LED Cinema Display has vivid colors and exceptionally high contrast and uses a premium display technology called in-plane switching (IPS) to provide a brilliant image across an ultra wide 178 degree viewing angle.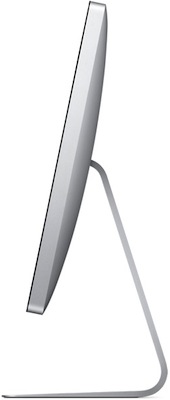 Designed as a companion for any Mac notebook or desktop, the 27-inch display includes a built-in iSight video camera for video conferencing, an integrated MagSafe charger to keep Mac notebooks charged, built-in Mini DisplayPort connectivity for video and audio input and a powered three-port USB 2.0 hub so customers can charge their iPhone® or iPod® even when they take their MacBook with them.
The new LED Cinema Display now includes a new ambient light sensor which automatically adjusts the display brightness based on external lighting conditions and uses only as much energy as necessary to provide an optimum viewing experience. Made with mercury-free LED technology, arsenic-free glass and highly recyclable materials, the LED Cinema Display meets stringent Energy Star 5.0 requirements and achieves EPEAT Gold status.* The new display contains no brominated flame retardants and all cables and components are PVC-free.
Pricing & Availability
The new LED Cinema Display will be available in September through the Apple Store® for a suggested retail price of $999 (US). The LED Cinema Display requires a Mac with Mini DisplayPort.
"With built-in MagSafe charging, iSight camera, speakers, and USB ports, the LED Cinema Display is ideal for MacBook and MacBook Pro users. With its massive 2560 x 1440 resolution, the new 27-inch LED Cinema Display is a perfect fit with our powerful new Mac Pro, and it gives iMac users an easy way to double their screen real estate."
— Philip Schiller, Apple's senior vice president of Worldwide Product Marketing
Apple 27-inch Reviews
From Critics Around the Web