Brings immersive, 3D movies and gaming to the big screen, even in rooms with bright ambient light
Acer has just announced the H5360 NVIDIA 3D Vision-Ready projector. Delivering HD-ready 720p (1280×720) resolution, the Acer H5360 boasts the latest technology for a truly unsurpassed video projection experience. The advanced lamp technology with illumination of up to 2500 ANSI lumens paired with the high 3200:1 contrast ratio also heightens the color and clarity of the images. Also — it displays images in native 16:9, so customers can view high-definition digital content without image distortion that arises from incompatible aspect ratios. The projector also has a 50-120Hz vertical refresh rate.
The Acer H5360 projector has an HDMI™ port that provides a seamless connection to the latest digital sources ensuring exceptional high-definition viewing and audio from Blu-ray Disc™ high definition technology as well as DVDs. So even when it's not paired with NVIDIA 3D Vision, customers get to enjoy incredibly realistic 2D images that are crisp and vibrant.
Along with its HDMI port, the projector has other ports that ensure the projector can connect to a wide range of video sources; it has three RCA jacks, component video, S-video mini DIN, 2.5mm audio mini-jack, 15-pin D-Sub for a PC analog signal.
The Acer H5360 projector is available now for U.S. customers at leading retailers for a Manufacturer's Suggested Retail Price (MSRP) of $699. It is backed with a one year warranty on the DLP chip and 90 day warranty on the lamp.
State-of-the-Art Technology from NVIDIA 3D Vision™
The Acer H5360 delivers an incredibly realistic 3D viewing experience when combined with NVIDIA 3D Vision™ technology, which transforms traditional 2D images into stunning 3D. NVIDIA 3D Vision™ is a combination of an NVIDIA 3D Vision compatible computer and graphics card, and 3D Vision Kit that includes wireless active-shutter glasses and advanced software that can transform hundreds of PC games into an exceptional 3D experience. The lightweight glasses, which can be worn over regular eyeglasses, can provide up to 40 hours of 3D entertainment on a single charge.
Improved Visual Experience at Home
Both new projectors display images with more natural and balanced shades, and truly lifelike tones, thanks to Acer ColorBoost II+ featuring an optimized 3X color wheel design, a powerful image processor and an advanced lamp waveform to improve color performance. Further contributing to the enhanced images, the ColorSafe and DLP technology ensure picture integrity even with prolonged use, making the projectors virtually immune to color decay. The visuals are complemented by ample audio with an internal speaker on the new projectors with 2-watt output. External speakers can be connected.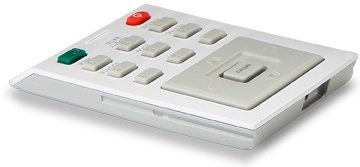 Up to 4000 hours of lamp life on the two new Acer projectors reduces lamp replacement costs and ensures long-term dependable projector use. The extended lifespan and consistent image quality lower the total cost of ownership and translate to big savings. Further savings are ensured by the innovative DLP chip, enabling a filter-free design for lower maintenance and operating costs.
Designed to be used in a variety of locations, the new projectors will deliver superior visuals at home, the office or in a classroom. Thanks to the innovative wall-color compensation capabilities, the projectors display clearly even on colored surfaces, so they do not need to be used with a screen. Acer projectors correct vertical distortions of up to 40°, so the audience sees a rectangular image rather than one with a wider top/bottom, even if the projector is placed above or below the screen. Plus, both models can be ceiling mounted and used with the included remote control. Customers can easily change the lamp module even when the projector is ceiling-mounted thanks to the Acer Top-loading Lamp design.