Acer announced two all-in-one (AIO) desktop PCs, the 23-inch AZ5 Series and the 21.5-inch AZ3 Series, both of which offer a full HD (16:9) touch screen display. They provide one-touch access to practical information, music, photos and social networking. Users can switch between applications with quick, finger-tip control. It simplifies photo management — images can be cropped, saved and shared with just the touch of a finger. The Acer Browser Magnifier expands reading areas and retains user preferences for easier web browsing.
Acer clear.fi allows media to be managed, stored, shared and enjoyed on any clear.fi enabled devices in the home. clear.fi automatically connects all Acer devices on a network (smartphones, notebooks, desktops, HD media players and storage devices) and then gathers and organizes media files by media type. Users can browse the categories and then drag and drop the media to any of the connected PCs or devices for playback. clear.fi can also be downloaded free from Acer on any DLNA-compliant device.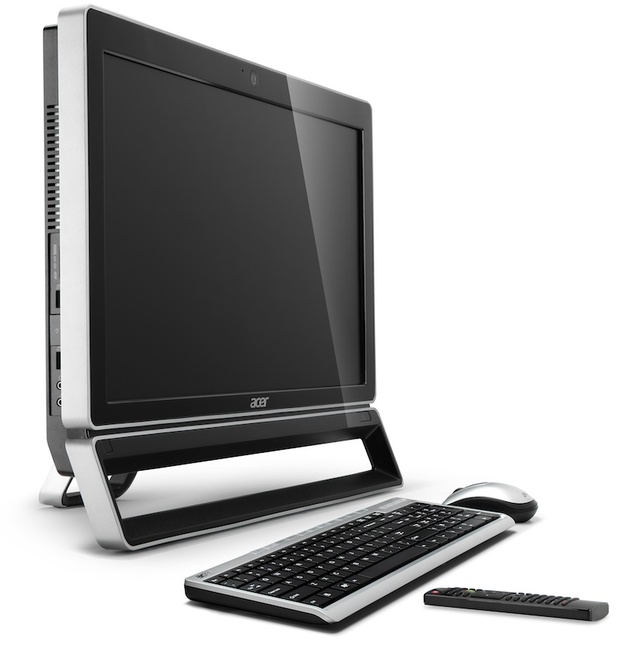 The AZ5 Series comes with two built-in 2.5W stereo speakers and Dolby Home Theater audio to bring digital entertainment to life. It offers 4GB DDR3 memory and processor options include a powerful Intel Core i3-2120 processor with hyper-threading technology to handle multiple applications simultaneously, enabling users to do more with less wait time. An enormous 1TB hard drive provides generous space to store content and an optical drive is included for backing up valuable data.
The AZ3 Series offers an AMD Dual-Core A4-3400 Accelerated Processor (2.7GHz, 1MB Total L2 Cache). In addition, AMD Radeon HD6410D Graphics provide solid performance for taking advantage of the latest in digital media. There are two 2.5W stereo speakers and optimized Dolby Home Theater audio to deliver rich audio for movies, music and games. A large 500GB 7200RPM SATA hard drive has significant storage space and an optical drive is included for back-ups.
All of the new AIOs have a built-in 1.3-megapixel webcam and microphone, which enable face-to-face communication for staying in touch with friends and family. Two USB 3.0 ports (side) and four USB 2.0 ports (rear) allow quick and easy connection to peripherals and digital devices. A multi-in-one digital media card reader conveniently transfers files from digital devices. These sleek PCs also come with an adjustable back stand, 802.11b/g/n wireless connectivity and a wireless keyboard and mouse for an uncluttered work area.
Pricing and Availability