New 15.6- and 17.3-Inch Notebooks Are an Elegant Blend of Modern Multimedia Features, Performance and Value
Acer America announced U.S. availability of new Acer Aspire notebooks offering exceptional price/performance and cinematic high-definition entertainment to anyone on-the-go, including students and small business professionals.
These systems boast a dynamic multimedia experience with cinematic HD, 16:9 widescreens and Dolby surround sound audio in a visually appealing sapphire design known as Gemstone Blue. The Aspire notebooks are engineered to suit the needs of users desiring an affordable mobile workhorse for being productive and enjoying digital life at school, on the road or at home.
"As part of our highly acclaimed Gemstone Blue family, the latest Aspire notebooks feature excellent price/performance and mainstream entertainment in a mobile PC that delivers significant value for their investment," said Ray Sawall, senior manager of product marketing for Acer America. "Consumers are increasingly selecting notebooks as their primary device. As proven by our latest Aspire notebooks, we recognize that value-based mobile PCs need to offer appealing aesthetics as well as great performance and multimedia capabilities."
| | |
| --- | --- |
| | |
| AS5536 | AS7735Z |
Best-in-Class Price/Performance and Mobile Entertainment
The new Acer Aspire AS5536 and Acer Aspire AS7735Z notebooks are outfitted to provide brilliant visuals and dynamic audio play. Featuring LED backlit technology and a 16:9 aspect ratio, the systems deliver bright, lifelike HD pictures. High-definition graphics from NVIDIA enhance imagery with vivid color and crisp detail. Combined with a Dolby Home Theater surround sound system, users will enjoy a vibrant audio experience.
User-Friendly Design Enhances Navigation and Security
Affording easy, intuitive PC navigation, the new Aspire notebooks have a multi-gesture touchpad, allowing users to pinch, flick and swirl their fingers across it. Users can scroll, zoom in and out and quickly flip through web pages, photos, spreadsheets and more. To prevent accidental cursor movement, a practical touchpad lock is incorporated.
The new systems also come with Acer Backup Manager, a simple one-touch way to quickly and easily back-up all the important files and information stored on it, such as music, photos, video, contacts, emails and Internet favorites. It gives customers a simple, convenient way to backup files to another location such as a USB drive, external hard disk or another hard drive partition. Users can set Acer Backup Manager to schedule a regular time to back-up data automatically or simply press the button for an immediate back-up.
The Acer Aspire AS7735Z boasts a convenient PowerSave Key. Located above the keyboard, the PowerSave Key allows customers to easily prolong battery life to extend uptime. A simple press of it activates the advanced power saving settings, traditionally a tedious procedure accessed through numerous software-based steps. This one-button approach simplifies the process, saving time while extending battery life.
The notebooks deliver excellent performance with Windows Vista Home Premium with Service Pack 1, the latest wireless technology, up to 4GB memory and powerful Intel or AMD processors. Large hard drives start at 250GB and are capable of storing a vast library of music, photos, spreadsheets and presentations.
An Acer Crystal Eye webcam enables high-quality video chats and VoIP with friends, family and work associates. It can also capture still pictures and videos for sharing with others. An integrated multi-in-one media reader enables connection to peripherals and electronic devices, while an HDMI port allows the system to support any PC or TV video format via a single cable.
The Acer Aspire AS5536 and Acer Aspire AS7735Z notebooks are available for U.S. customers now at leading retailers. Specifications and pricing follow.
Acer Aspire AS5536 Notebook PC – Prices begin at $479.99
15.6-Inch HD Acer CineCrystal™ LED-Backlit Display (16.9 Aspect Ratio)
AMD Athlon™ 64 X2 QL-64 Dual-Core Processor (2.1GHz, 1MB L2 Cache, 800MHz FSB)
3GB DDR2 667MHz Memory
ATI Radeon™ HD 3200 Graphics
320GB SATA Hard Drive
8X DVD-Super Multi Double-Layer Drive
Multi-Gesture Touchpad
Acer InviLink 802.11b/g/Draft-N Wi-Fi CERTIFIED
Acer Aspire AS7735Z Notebook PC – Prices begin at $599.99
17.3-Inch HD+ Acer CineCrystal™ LED-Backlit Display (16:9 Aspect Ratio)
Intel Pentium T4200 Processor (2.0GHz, 1MB L2 Cache, 800MHz FSB)
4GB DDR3 1066MHz Memory
Intel Graphics Media Accelerator 4500MHD
250GB SATA Hard Drive
8X DVD-Super Multi Double-Layer Drive
Acer PowerSmart Technology/Key
Multi-Gesture Touchpad
802.11b/g/Draft-N Wi-Fi CERTIFIED
Acer Aspire AS5739G, Mobile Multimedia Powerhouse
Taking mainstream entertainment performance another step up, the Aspire AS5739G offers even more power and extras. It's fueled by the power of Intel Core 2 Duo processing for experiencing the ultimate in digital media. Increasing dynamic visual quality, a 15.6-inch HD CineCrystal display delivers lifelike images in a high 1366 x 768 pixel resolution. Dedicated NVIDIA GeForce GT130M graphics provide crystal-clear images with brilliant color, making games and digital media appear incredibly crisp and realistic.
The system also comes outfitted with a Dolby Home Theater surround sound system, two built-in stereo speakers, an Acer Tuba CineBass booster and 5.1-channel output. Combined, these high-fidelity features liberate the senses with vibrant audio that brings movies and music to life.
Security features include an Acer PowerSmart Key that backs up data without a hassle by duplicating files to another location with just a push of a button. An Acer Bio-Protection fingerprint reader for securing and privatizing personal information is also incorporated.
The Acer Aspire AS5739G notebook will be available end of June for U.S. customers at leading retailers. Specifications and pricing follow.
Acer Aspire AS5739G Notebook PC — Prices Begin at $749.99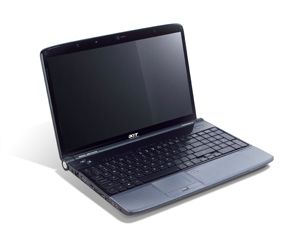 15.6-Inch HD Acer CineCrystal™ LED-Backlit Display (16:9 Aspect Ratio)
Intel Core2™ Duo Mobile Processor T6500 (2.1GHz, 2MB L2 Cache, 800MHz FSB)
4GB DDR3 1066MHz Memory
NVIDIA GeForce GT130M Graphics with 1GB Memory
250GB SATA Hard Drive
8X DVD-Super Multi Double-Layer Drive
Acer Bio-Protection Fingerprint Solution
Acer PowerSmart Tech/Key
Intel WiFi Link 5100 802.11 a/b/g/Draft-N Wi-Fi CERTIFIED
Multi-Gesture Touchpad