Several years ago I reviewed a SoundBridge M2000 network music player, now replaced by M1001. After about a year of use, this SoundBridge was retired because of random sound drops for extended periods (using a hard wired network connection).
My entire CD collection, somewhere in the neighborhood of 8000 plus songs, was copied onto a 400MB external hard drive, namely for backup and to create a CD-less jukebox that plays original CD quality music. To retain the same CD quality, lossless format was the only option. I chose iTunes lossless format, otherwise known as Apple Lossless Audio Codec (ALAC), for convenience.
Prior to the Firefly media server, SlimServer was the only freely available server that supported ALAC for SoundBridge. Although Apple's iTunes can import and play ALAC encoded music files, it still does not permit streaming of the same via non-Apple network music players. After many updates, both with SoundBridge firmware and SlimServer, I gave up all hopes of playing ALAC encoded songs through SoundBridge because of unpredictable sound drops (occurring on all three outputs) and other software issues. Sometimes it worked, many times it didn't. The unit was essentially collecting dust for about a year.
When SoundBrige users upgraded their iTunes to release 7 in September 2006, they were in for a surprise. Apple changed the music sharing feature in iTunes 7, making it incompatible with SoundBridge. Luckly, it appears that Roku had Firefly at works in anticipation of iTunes 7 release. Roku's Firefly is an open source media server available for Windows, Mac, and Linux platforms. Firefly can Import all iTunes playlists, even when iTunes is not running, run in the background, and can be configured to start automatically. Firefly supports MP3, AAC, and WMA on all platforms. FLAC and OggVorbis are supported for Windows. Most importantly, Roku didn't forget us ALAC users. Firefly on the Mac platform supports ALAC. Firefly transcodes ALAC music files to a CD standard WAV audio file (at 1411 kbps bit rate and 44.1 kHz sampling rate).
I was hoping that Firefly, since it was created for SoundBridge by Roku, would be a significant improvement over SlimServer. I was really eager to give Firefly a try. Immediately upon upgrading the hardware firmware to 2.57.17 (after installing and configuring Firefly 1.0 (svn-1450)), my SoundBridge was able to connect to the Firefly server without a hitch. I tried browsing the playlists, which should have been imported from the iTunes library. None, however, were imported. Firefly forum indicates that I wasn't the only one having this issue. Fortunately, there was a solution, namely identifying the correct file path of the iTunes playlists, rather than the actual music files, in the "Music Folder" entry of the Firefly's web based configuration page. This part was a bit confusing because there is a separate "Playlist File" entry, which is for the Firefly's own smart playlist.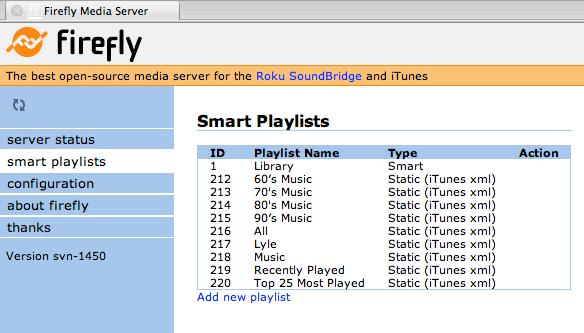 In my previous review, I gave SlimServer a leg up over iTunes because of its ability to play ALAC files, although iTunes had a better user-friendly, more intuitive interface. Firefly further improved its interface by adopting key features of both iTunes and SlimServer. Firefly's interface is similar to iTunes' interface in that they both include searching/browsing by Artists, Albums, Songs, Genres, Composers, and Keyword (Genres only available in browsing). It also includes the fast browsing feature, namely jumping to the next or previous alphabet, instead of having to scroll through the items in the list one by one. Moreover, Firefly adopted a loop feature (going from last to first item or vice versa in the list) from SlimServer. One feature that I thought was useful in SlimServer was not adopted, namely the ability to create playlists from SoundBridge itself. Another nice feature, can't recall whether iTunes included it, is the ability to browse info on a song that is not currently playing. By selecting a non-currently playing song from a playlist, Artist, Album, Composer, Year, Length, Genre, and File Size can be viewed.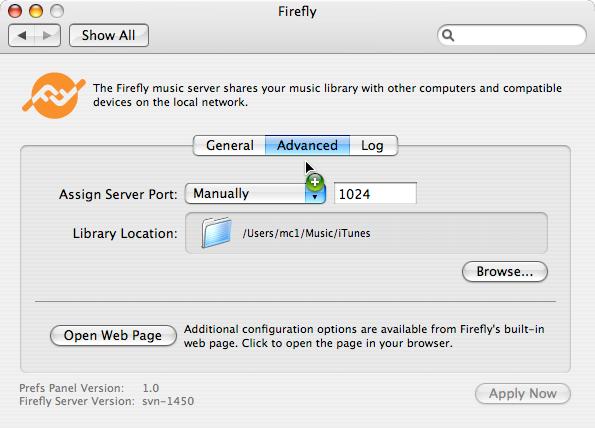 The annoying sound drops that plagued SlimServer disappeared. Perhaps this is due to a more efficient transcoder used in Firefly. Indeed, during music play, my Mac's (Dual 2 GHz PowerPC G5, 2.5 GB DDR SDRAM) Activity Monitor indicated less than 1% CPU usage, which means it won't hog up much CPU bandwidth.

Bottom line, Firefly is definitely an improvement over iTunes and SlimServer, at least for playing ALAC encoded songs. I finally have what I need to play through 8000 plus ALAC encoded songs without the problems I previously encountered. SoundBridge firmware has been upgraded several times to the latest beta version 2.7.29, and the SoundBridge/Firefly combination is working consistently without any issues. The only gripe I have is with the display turning brightest when SoundBridge is turned off. I would prefer the display to dim to its lowest setting instead of its highest setting.

This review reflects a personal subjective opinion of one person. If any inaccuracies appear in this review, please add your comments in the space provided below.

Lyle Kimms
Contributing Editor
eCoustics.com

<!-comments-button-->