Feature Adds Instant Streaming Access to VUDU's Extensive Library of Full HD 1080p Movies Instantly for Rental or Purchase
The Panasonic 2010 line of VIERA CAST-enabled Blu-ray Disc Players will offer instant streaming of VUDU's huge high definition movie library, including more than 4,000 Full HD (1080p) movies, beginning on November 24.
VUDU is a video-on-demand service offering instant streaming (no download time) of movies and TV programs through IPTV-enabled HDTVs and Blu-ray Disc Players with no computer or cable/satellite TV service required, and no subscription or monthly membership fees. VUDU boasts the world's most extensive library of HD movies from all Hollywood studios and leading independent distributors, and an unmatched new release collection with titles available the same day as the DVD release. The VUDU service also offers a great value to movie renters, with an enormous collection of titles available for only $2 for a two-night rental.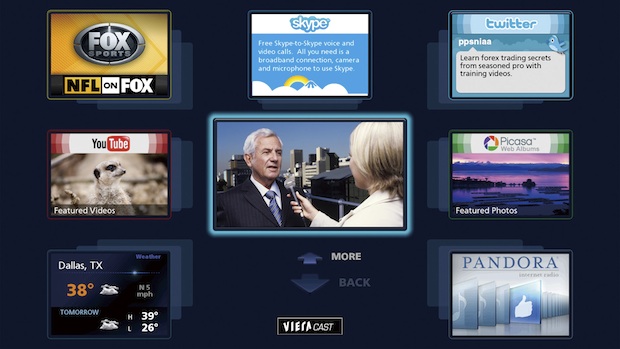 VUDU is the latest entertainment feature to be added to VIERA CAST, Panasonic's IPTV functionality. Earlier this year, Panasonic added Netflix, Skype voice and video calling, Twitter and Pandora to an already robust list of popular entertainment and information options, including Amazon Video-on-Demand, You Tube, Google's Picasa Web Album, FOX Sports, Bloomberg News and a weather service. Panasonic's line of VIERA CAST-enabled Blu-ray Disc Players allows consumers to turn any flat panel HDTV into an IPTV or connected TV via VIERA CAST. VIERA CAST requires no external box or PC5 and is accessed via a single button on the Blu-ray Disc Player remote control. There is no fee to use the VIERA CAST functionality (some VIERA CAST services such as VUDU, Netflix and Amazon VOD have a separate fee structure). New VUDU customers on VIERA CAST will receive a $5.99 credit, enabling them to watch their first HD movie on the service for free.
2010 Panasonic Blu-ray Disc Players Featuring VIERA CAST: