With its members now watching more content streamed over the Internet than on discs delivered by mail, Netflix introduced a $7.99 streaming-only subscription plan in the United States, the first time it is promoting a 100 percent streaming option in the U.S. The plan, which allows members to instantly watch unlimited movies and TV episodes streamed from Netflix to TVs and computers, is available now to both new and existing members.
"We are now primarily a streaming video company delivering a wide selection of TV shows and films over the Internet," said Reed Hastings, Netflix co-founder and CEO. "Today's action reflects the tremendous customer value we've injected into streaming from Netflix, our initial success with a pure streaming service in Canada for $7.99 a month and what our U.S. members tell us they want."
Prices Increased for DVDs by Mail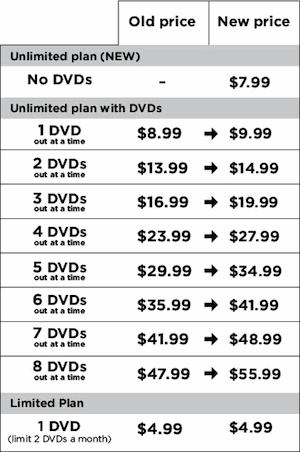 The company also announced that the price of its popular subscription combining unlimited movies and TV shows streamed instantly over the Internet and unlimited DVDs delivered quickly by mail, with one DVD out at a time, will increase by a dollar a month to $9.99. Prices of subscription plans allowing for more DVDs out at a time will also increase. Price changes take effect now for new sign-ups and in January for existing members.
Instantly watching movies and TV shows streamed over the Internet has become the preferred way members enjoy the Netflix service. The company recently announced that in the current quarter, which ends December 31, its members will watch more content streamed over the Internet than on DVDs and that in the same period Netflix will invest more money to license streaming content than to acquire DVDs.
Netflix members in the U.S. now have access to an ever expanding library of movies and TV episodes that can be watched instantly, and there are more than 200 consumer electronics devices — including the three major game consoles and scores of Blu-ray disc players, Internet-connected TVs and digital video players — capable of streaming from Netflix right to members' TVs.
Over time, Netflix has added significantly to the streaming content available to its members. This year alone, licensing deals with NBC Universal, Warner Bros., 20th Century Fox, EPIX™, Relativity Media and Nu Image/Millennium Films have added a wealth of first-run theatrical films, hit TV series and movie classics to the Netflix streaming offering and have helped make streaming the most popular way to enjoy a Netflix membership.
In late September, the company introduced its service in Canada, the first availability of Netflix outside the U.S. Canadian members can instantly watch unlimited movies and TV shows streamed from Netflix for C$7.99 a month. The company recently said its Canadian service has surpassed initial expectations and encouraged it to accelerate plans for further international expansion in 2011.