This week the gadget gang at Retrevo picked out some new cable TV technology, the hottest Blu-ray DVD, and more.
Apple Rumor: Networked HDTV Set
Now the Apple has their new Macbooks out the door you might be wondering what they have in the works for Macworld Expo in January. Rumor has it Apple will be entering the TV business with, well, an Apple TV. They already have a TV content distribution network aka iTunes and they have lots of experience with large LCD monitors. It wouldn't be much of a stretch to combine an HDTV receiver, Apple TV, and a network connection and voila, a real Apple TV.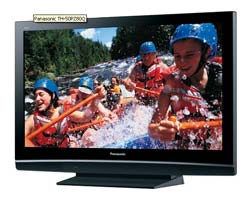 Panasonic THPZ80Q Tru2way Plasma TV
A couple of years ago, by FCC decree, cable operators were required to separate their service from the set top box. Consumers could use a cable card on their cable card-enabled equipment to avoid the costs of a set top box. As you might guess cable operators weren't thrilled with the idea and didn't make it easy; they required a technician to come to your house and match the card to the device. That was then… and now… Comcast is offering what appears to be a consumer-friendly service called tru2way. Just launched in Denver and Chicago and coming to a major metropolitan area near you, the tru2way platform allows consumers to use any cable card from and carrier in a tru2way certified set. Unlike traditional cable cards, video on demand and pay per view are now supported.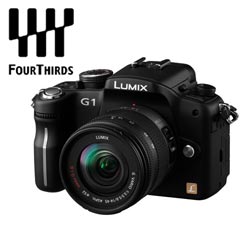 New Panasonic Four Thirds Camera
If you haven't heard of the Four Thirds camera standard, it's an interesting closed system that allows participating manufacturers to offer interchangeable lenses. Four Thirds refers to the size of the sensor (equal to an obsolete 4/3" video camera tube) and 4:3 aspect ratio (different from typical DSLR ratio of 3:2 which matches 35 mm film). Four Third cameras can be smaller and lighter however smaller sensors may be more susceptible to noise. The Panasonic 12.1 megapixel Lumix G1 eliminates the internal mirror of traditional SLRs and has a suggested price of $799.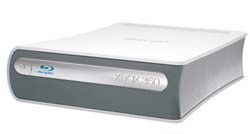 Xbox 360 External Blu-ray Player?
As long as we're running rumors, how about an add-on Blu-ray drive for the Xbox 360? Microsoft, who backed HD DVD and doesn't take defeat easily, is probably still seething over losing the format war to arch rival Sony's Blu-ray. Rumor has it they have commissioned Toshiba-Samsung Storage Technology Corp. to build an external Blu-ray drive for the Xbox 360.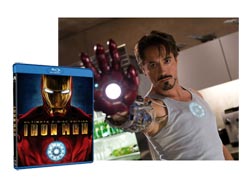 Iron Man Blu-ray DVD Offers Stunning Quality
The recently released Iron Man two disc set has been getting rave reviews. Reviewers and users praise the stunning transfer quality with images that leap off the screen and amazing TrueHD audio including some spectacular room-shaking LFE (low frequency effects). Word is also out on a December 9th release date for Dark Knight which will come in a special Bat Pod case and feature TrueHD lossless audio and over three hours of extras.
by Andrew Eisner (Retrevo.com)