Loading, please wait...
Uniden UDW10003
Perfect for the home or small business, Uniden's wireless video surveillance products use digital 2.4GHz wireless technology for a secure, interference-free experience. Simple installation and a choice of a variety of cameras and monitors offer a complete video surveillance solution.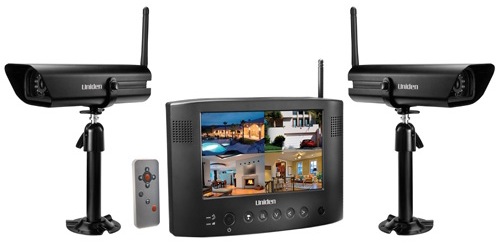 Uniden UDW20055
The product line includes a 3.5-inch portable wireless video monitor, a 7-inch wireless video monitor, an indoor/outdoor wireless camera and a compact portable wireless camera. The system can support one monitor and up to four cameras, and both the indoor/outdoor and portable wireless cameras are equipped with infrared night vision. The included surveillance software allows users to monitor and control the system from a personal computer, and offers a variety of recording capabilities, including scheduling and motion detection. In addition, both the 3.5-inch and 7-inch monitors can be easily connected to a television via standard RCA cables for big screen viewing.
Product Pricing and Availability
Uniden's new wireless video surveillance systems are currently available at major North American retailers and online at unidendirect.com. Product packages and pricing include:
UDW10003: includes a 3.5-inch portable wireless video monitor and a compact portable wireless camera. MSRP $199.99

3.5" Color Display (640 x 480 VGA)
Lithium Polymer Rechargeable Battery

Camera = (up to 4 hours operation)
Base = (up to 10 hours operation)

Night View Camera
AV out to TV Monitor
Expandable up to 4 Cameras!
Simple Plug 'N Play!
Digital Zoom/Pan/Tilt Capability
Quad, AutoScan or Full Screen View
Camera transmits up to 500ft. – (subject to environmental conditions)
Portable & Discreet
Built-in Microphone
PC Software Included – (XP & VISTA)
Detection Sensitivity – (optional with included software)
Playback Feature – (optional with included software)
Smart Motion Detection & Alarm – (optional with included software)
Scheduled Recordings to Your PC – (optional with included software)

UDW20055: bundles two indoor/outdoor wireless cameras with a 7-inch wireless video monitor and remote control. MSRP $299.99

7″ Color Display
Expandable up to 4 Cameras!
Night View Camera
AV out to TV Monitor
Simple Plug 'N Play!
Includes Remote Control
Full Screen View, AutoScan from Camera to Camera or Quadview
Digital Zoom/Pan/Tilt Capability
Camera transmits up to 500ft. – (subject to environmental conditions)
2 Weather Proof Cameras
Built-in Microphone
Simple "Do-It-Yourself" Set-up
PC Software Included – (XP & VISTA)
Detection Sensitivity – (optional with included software)
Playback Feature – (optional with included software)
Smart Motion Detection & Alarm – (optional with included software)
Scheduled Recordings to Your PC – (optional with included software)

Individual accessory cameras are available for a MSRP of $99.99
Where to Buy