Loading, please wait...
Satellite U400 Sports Elegant Design and Technology Innovations in 13.3-Inch Mobile Form Factor
Toshiba's Digital Products Division (DPD), a division of Toshiba America Information Systems, Inc., today announced it's now shipping the new Satellite U400 laptop series, a stylishly designed 'thin-and-light' mobile laptop that features Toshiba's new brilliant Fusion™ finish with Horizon pattern, and premium innovative computing technologies, while weighing less than five pounds.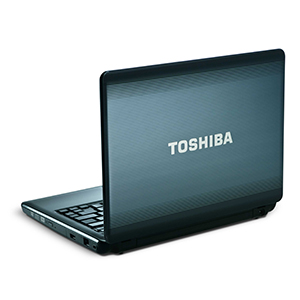 Bonded within the Satellite U400 series chassis is Toshiba's unique Fusion finish with Horizon pattern, a distinctive blend of appearance and texture. By embedding the design directly into the laptop body the result is a visually stunning laptop that's perfect for users that desire both style and mobility.
"Toshiba's Satellite brand has long exemplified what users desire from their laptops in terms of performance, portability and usability," said Jeff Barney, vice president of marketing, Digital Products Division, Toshiba America Information Systems, Inc. "Now, with the introduction of the Satellite U400 series with its new Fusion finish, Toshiba has engineered a highly mobile machine that's both beautiful and powerful."

To complement its sleek and modern appeal, the Satellite U400 series offers a variety of new and innovative features that enhance the overall computing experience including a flush mounted touchpad, Sleep-and-Charge USB ports and facial recognition. The flush mounted touchpad rests seamlessly across the front of the palm rest with a white LED light across the top to enhance the detail-oriented finish, while providing a slight texture change so users can easily find the touchpad without looking away from the screen. The innovative Sleep-and-Charge USB ports featured on the Satellite U400 series allow for popular mobile devices such as MP3 players, mobile phones and PDAs to be charged whether the laptop is powered-on or off. A Webcam with facial recognition software provides users with a unique and fun way to gain access to the laptop based on a recorded digital image of the user's face.
Each Satellite U400 model sports a high-definition 13.3-inch diagonal widescreen TruBrite display, which is perfect for viewing a wide variety of high-definition content including streaming online HD television programs, HD movie trailers and HD video podcasts. With new LED-illuminated "Feather-Touch" multimedia command keys the mere touch of a finger can control the audio and video playback of a user's favorite movies and music.

The Satellite U400 series incorporates variations of the Intel Core™ 2 Duo processor technology, which provides users with an abundance of power to enjoy all that modern computing stands for in terms of Internet, multimedia entertainment and productivity.
The new Satellite U400 series is available from a variety of major consumer electronics and computer stores nationwide or directly from Toshiba at http://www.toshibadirect.com.
Where to Buy