Loading, please wait...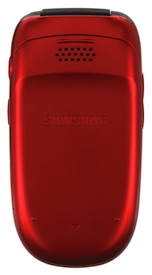 Offers Classic Clamshell Design Equipped with Favorable Features

The attractive flip-style form factor makes the Samsung Stride™ (SCH-r330) ideal for consumers looking for a quick and simple way to stay connected. Equipped with Bluetooth Wireless capabilities, the Samsung Stride is perfect for quickly pairing other Bluetooth-enabled devices while on-the-go for a seamless hands-free experience. Users can personalize the Stride by using its easyedge℠ services to download their favorite ringtones, wallpapers, games and business applications. Users can also capture photos with the Stride's 1.3 megapixel built-in camera. The Stride supports up to 55MB of internal memory for users to store pictures, contacts, text messages and more. The Stride is available eye-catching red with black trim.
Productivity
Bluetooth Wireless Technology
Navigation Key
Shortcut Key
Speakerphone
Personalization
Multilingual Text Display with Prompts in English and Spanish
easyedge℠ services: Downloadable Ringtones, Wallpapers, Games and Business Applications
Auto Key Lock
Where to Buy