Loading, please wait...
LG Electronics introduced the Optimus L3, a basic Android smartphone with a 3.2-inch display as part of their new L-Style design series. L-Style elements include as Modern Square Style and Harmonized Design Contrast with metallic accents, emphasizing a premium design.
Its 3.2-inch display provides the ideal viewing experience on a compact smartphone. As an "on-the-go" socializing device, the Optimus L3 allows for longer talk times and ensures that users always stay connected to their favorite social network with its 1,500mAh battery. Customers even have a variety of options when choosing the color for their device — white, black, hot pink or blue.
"We've always believed in the need to offer a variety of smartphone options and many people simply don't want to pay for a lot of extra bells and whistles." said Dr. Jongseok Park, President and CEO of LG Mobile Communications Company. "We think the Optimus L3 offers all of basic smartphone-related benefits but in a more premium package that hasn't been seen before on a smartphone in this category."
Price and Availability
The LG Optimus L3 will first launch in Europe, then Russia and Asia, followed by other markets around the world. Check price →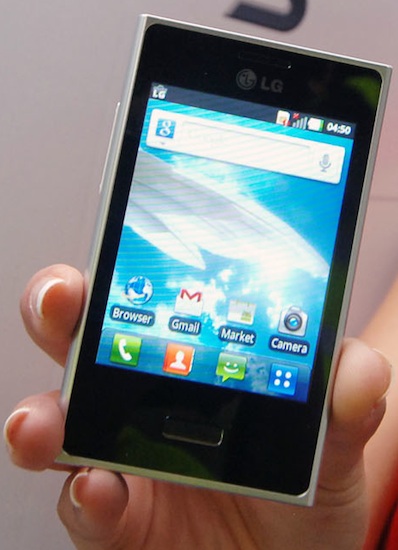 See more about
Specifications
Chipset: 800MHz Processor
Memory: 1GB (for Storage), 150MB (for Apps), 384MB (RAM)
Display: 3.2-inch QVGA
Camera: 3.0 MP
OS: Android 2.3 Gingerbread
Battery: 1,500mAh
Size: 102.6 x 61.6 x 11.7 (mm)
Where to Buy
Reviews Around the Web:

lg optimus l3