Loading, please wait...
For immediate release: Date: July 3, 2007
Contact: WanTech Ltd
Ms. Phoebe Cheung
Tel: (852) 2304 0730
Email: sales@buyoyo.com
Hong Kong, July 3, 2007 – Buyoyo.com, one of the world's largest
Chinese Books and Entertainment products, and audio/video and multimedia
manufacturer Trends Audio announced today that Buyoyo.com will now offer
Trends TA-10.1 Class-T Stereo Audio Amplifier and Trends UD-10 USB
Audio Converter from its popular online in Greater China. Following
their previous successful track, Buyoyo.com are actively accessed
potential business partners to explore and expand the Chinese Entertainment
products market share. Meanwhile, Trends Audio is looking for a right
partner to handle the logistic management and reduce the shipping cost.
Both companies are committed to providing not only superior HiFi products
But also the fast delivery and convenient online shopping environment
"As all know, the internet is a good place to sell our products due
to the small size of Trends TA-10.1(only 0.95 Kg including the power supply)
and Trends UD-10(only 0.5 Kg), we want to let all to reach HiFi level
easily and in a very reasonable price. Whoever can be an audiophile.
No matter you've already an audiophile and you just want to upgrade
to a better sound quality to enjoy music, you will be satisfied our products'
said Ternds Audio's Marketing Director, David Ho As online shopping becomes
more popular, consumers and businesses will increase engage in online
evaluation, selection and purchasing of goods and services, we look forward
to working with more online partners in North American and Europe in
coming days'
"To find more interesting & high quality products is our mission, this time
we partner with Trends Audio to sell Trends TA-10 and Trends UD-10 which is
also closely related to the AV entertainment. No matter you are audiophiles
or not, you need to have an amplifier to upgrade your HiFi systems and enjoy
the music. But, the prices of some products are also very high. It is not
acceptable by the general users and the relatively low heat audiophiles.
Therefore, we found these two products are very suitable for audiophiles
and any kind of entry level HiFi users. You now can enjoy the audiophile
quality products with the surprisingly low prices'
Buyoyo.com is planning to set up a show room in his office which facilitates
the customers to choose their favorite audio devices and high end AV cable
in Hong Kong. Besides, Buyoyo.com has a team of Customer Services Representations
who provide prompt customer services on inquiries the orders, stock availabilities?
pre-order, items search etc through MSN live chat, email and telephone
answer including Chinese and English language
About Buyoyo.com
Established in 1996, at present, http://www.Buyoyo.com
(Formerly DVDshelf.com) has become the largest Internet online
retailer of Chinese Entertainment products in the world. We have a
large selection of Chinese and foreign titles with clearly
categorized to facilitate movie, books and music lover ease to
search. Now, we have over 215,000 different products in DVD, VCD,
CD, Books, Games, AV Accessories and premium for customer to choose.
The number is ever increasing and updated. Buyoyo.com is to provide
the customer a one-stop shop to purchase Chinese Entertainment
products from all over the world and endeavors to offer our customers
the lowest possible prices.
About Trends Audio
Raved by reviewers, audiophiles and music lovers worldwide, Trends Audio
's products including Trends TA-10.1 Class-T Stereo Audio Amplifier and
Trends UD-10 USB Audio Converter is widely considered the best sounding
and the best value among the HiFi field. These little handful products
are quickly becoming a global audio phenomenon. Trends Audio's products
get very good response and sales in Hi-Fi field. There is much
discussions and good comments online.
——————————————————————————————————-
Please feel free to contact us if you would like to have an interview
with us or need some screen shots for this Press Release or request a
FREE trial of Trends Audio's products.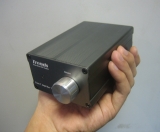 Where to Buy