Listening to music stored on your computer in any room of your house just got a whole lot easier with the Sonos Digital Music System.
Sonos miraculously simplifies whole-house audio. You don't need to be a computer expert, you don't need to be an electrician, you don't need to know someone who is either, and you don't even need to hire an installer. Plus you don't need anything pre-wired. Sounds too good be true, doesn't it? But the Sonos system was really that simple to setup and start using.
Zone = Room
The basic system ($1,199) consists of three parts (two ZonePlayers + one Remote). It lets you control music in two different rooms. One ZonePlayer must be wired into your hub/router or your computer's networking jack via standard Ethernet (CAT5) networking cable (included). The other ZonePlayer(s) can be anywhere in your house.
Installation a Breeze
Once the basic system is set up you can add zones by simply plugging in a new Sonos ZonePlayer in the room you want music and attaching speakers. Getting the Sonos system set up and playing music in two rooms took just 15 minutes, and I didn't even open the instruction manual. The Sonos installation software installed in less than a minute. It found all the music files stored on my computer from both my iTunes and My Music directories in various formats — AAC, MP3, and WMA.
One Beautiful Remote
The heart and soul of Sonos is the iPod-like color screen wireless remote control, which can control the room you are in as well as the entire system at one time. The color screen is very easy to read, and brings up a categorized menu of all your music much like an Apple iPod menu. The circular scroll wheel provides simple navigation to select your songs via artist, album, genre, or playlist. When my fiance first picked up the remote, she figured it out in seconds, and staring playing a Gwen Stefani song. Once you get the hang of it, using a regular CD player will seem archaic.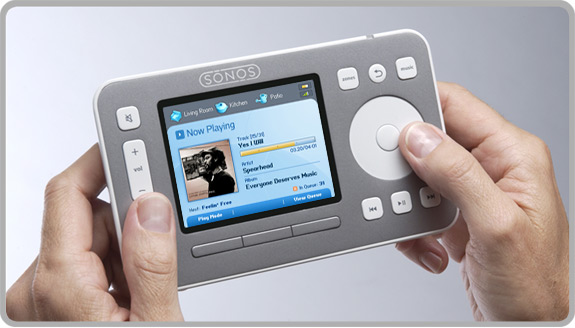 Play Forever
You can queue up an entire album, your playlist, or just enable random shuffle and your music can play continuously for hours, days, or even years. New songs can be downloaded while music is playing, and are instantly added into your Sonos music library. It really seemed almost too automatic, and it was hard to believe the system was so user-friendly and intuitive to use.
Smooth Operator
Amazingly, the music played instantly, paused instantly, and started instantly. There was no lag, just as if you were pressing the same buttons on a regular CD player. Volume changing also occurred without delay. Even more remarkable, was that no audio drop-outs occurred. Plus no wireless networking conflicts were encountered, even though there are at least a dozen in-range wireless networks in my apartment building.
Rhapsody In Progress
So everything worked great, up until I tried the just announced integration with Rhapsody. Rhapsody is a music subscription service ($14.95/month) which allows unlimited music downloads. The concept sounds fantastic, and a partnership with Sonos would seem ideal — that is when it worked. Sometimes the songs from Rhapsody played, while other times they didn't. Additionally, the Rhapsody program has to be open at all times and you must be logged into the service.
Sonos is aware of the Rhapsody issues, but chose to offer an early release to customers who were anxiously awaiting the Rhapsody feature. Sonos expects things to improve when Rhapsody releases their next software version.
How Does Sonos Work?
The beauty of Sonos is that you really don't need to know how it works. But if you must know, it creates an instant wireless network, with no configuration needed. Any ZonePlayer can communicate with any other ZonePlayer to get the music to a particular room. Each ZonePlayer has an internal 50 watt x 2 amplifier, which more than adequately powers each speaker. The wireless remote accesses your music library, and can control (play music on) any ZonePlayer individually, simultaneously, or by groups of rooms.
Nothing Else Needed
Since Sonos creates its own wireless network automatically for music only, you don't need a pre-existing home network. Even an internet connection is not required because Sonos plays music stored on your computer, however, if internet access is available you can play streaming music from internet radio stations too. You don't even need your computer on if you have an externally networked hard drive with your music.
Grade A+
Sonos is without a doubt the creme de la creme of wireless home multi-room/multi-zone music systems. Even the custom installed hard-wired audio systems or media center PCs can't beat Sonos. The bottom line is if you want music throughout your house, you have to get Sonos!
Pros
Cons
Easy setup and use
Rhapsody service integration buggy
MP3 / WMA / AAC compatible
Ogg Vorbis / Flac / WAV / AIFF lossless compatible
Wireless user-friendly color remote
Instant access to music anywhere in your house
Plays internet radio
Coolness factor
Sonos Digital Music System — Introductory Bundle: $1,199
More Information: Read other Sonos reviews or go to www.sonos.com
Editorial Disclosure:
The views and opinions expressed are solely that of the author, and may not be the views of eCoustics.com. Every effort was made to insure fair, accurate, honest, and reliable reporting. All equipment was received via loan from the manufacturer and promptly returned.
At the time of publication the manufacturer was a current advertiser, had purchased advertising, and has intent to continue advertising on eCoustics.com. The author affirms he and all immediate family members are neither shareholders, partners, investors, subsidiary, consultant, contractor, agency, or affiliate of the manufacturer.
Remember I am just one man with one opinion. If you own this product, or have a comment or question feel free to add your thoughts below.
Brian Mitchell
Founder & CEO
eCoustics.com