Shinco SDP-1720 – Slim is in!
The SDP-1720 offers everything you can possibly need for a powerful DVD experience — on the go!. This unit offers you a slim DVD player that can be hooked up to a TV and theater system, and oh, did we mention, it has a built in 7″ screen and speakers. It works great as both a portable and a regular DVD player.
Screen
The 16:9 format screen is 7″, and offers fantastic quality for it's size. The TFT screen that is built into the unit is of fairly high grade and provides sharp images, and text that is still readable considering the small size. The screen extends to within 1″ of the sides of the unit, and there is very little wasted real estate.
Sound
The Stereo speakers located underneath the screen are alright when listening in a quiet to somewhat louder environment. However, in noisy areas, you may find them a bit hard to hear. While the volume can be turned up, it is much easier to plug in headphones, and there is a standard 3.5 mm jack for your favorite pair!
Compatibility
Not only does it play DVDs, but it also plays regular CDs and MP3s burnt onto a CD-R. It is also able to play DVD-R and DVD+R discs, which is a big bonus for those of us making our own movies or family videos on DVD.
Battery
On most portable devices, this is usually where the review is a bit more negative, but overall, the battery is very good with this product — although I'd always like more! The battery clips onto the back of the unit, and is relatively compact. While it does add some size, it is nice to be able to omit the battery completely when using the included power supply. The battery life was very solid, especially considering the slim size of the unit. The battery lasted me about 3 hours and 12 minutes, with volume on high watching The Godfather. Charge time was also relatively quick attaining a full charge in under 4 hours.
Other Features
The unit also comes with a full remote control. The only thing the remote lacks is volume controls, but it makes up for it with its slim size — matching the player itself. The actual housing is a very sleek and nice looking aluminum casing and overall has a really great look. There is a latch on the front to prevent it from coming open while in transport, and also a similar latch holding the battery onto the back of the unit. It is physically very well designed. The button layout on the inside is very intuitive, and I never even had to open the instructions to figure our basic play modes and functionality.
Pros
– Good price point
– Slim design
– Works well as external DVD player
– Compatible with writable DVD formats
– Remote included
Cons
– Lack of input/output options
– Volume control missing on remote
The 1720's smaller brother: the TFT5 with 5″ Screen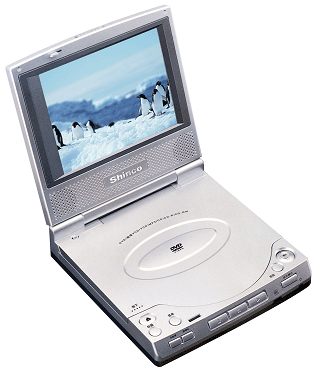 Availability → Check price
Thank you to Paul at Allcam.biz for making this review possible.
Ramy is a freelance reviewer with a background in electrical engineering