Does MBL make the best speakers in the world?
The MBL 101 X-treme loudspeakers are extremely big, extremely expensive, extremely unique, and extremely good. They may be the best speakers ever made at any price for those with a quarter-million dollars to spare.
If you thought Bang & Olufsen made pricey, funky speakers you haven't seen anything like the MBL's 6-foot tall behemoths. Each hand finished 101 X-treme is a thing to behold, a sculptural device that uses three pulsating spheres (for bass, midrange, and high frequencies) as a starting point. MBL's engineers and craftspeople employed carbon fiber, aluminum, steel, acrylic, and wood to create this massive four-tower speaker system.
The main tower holds a pair of mirror-imaged omnidirectional Radialstrahler driver arrays, supported by an armature of acrylic, steel, and wood, while the lacquered woofer columns house a quartet each of proprietary 12-inch bass drivers.
While the freestanding 6-foot subwoofer is powered, each speaker requires double amplification. MBL recommends four of their 9011 monoblock amplifiers ($53,000 each) or two 9011 monoblocks for the lower section, and two smaller MBL 9008 monoblocks ($30,300) for the upper group. The ideal choice provides 4 x 440-watts at 8 ohm (double that at 4 ohms, and again at 2 ohms). No need to worry about damaging these speakers, the MBL 101 X-Treme's can handle up to 2,200-watts each!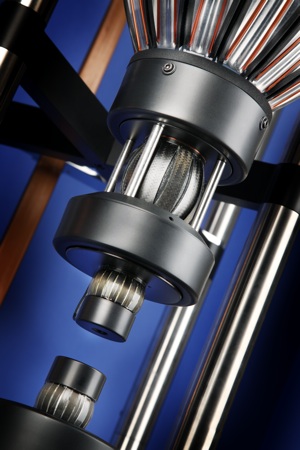 Photo Credit: mbl.de
MBL proudly boasts on their website, "… reading about the 101X-Treme Reference System is one thing. Experiencing it is something else again. When it comes to recreating a musical event, any musical event — the 101X-Treme brings home the unbridled power of full symphony orchestra, the visceral wallop of a live rock or hip-hop concert, as well as the intimacy of a jazz trio or the delicacy of a solo flute. To call it extraordinary is an understatement."
The Absolute Sound agrees in their January 2011 review by Jonathan Valin who said, "I rather doubt that the 101 X-Tremes will be beaten out by any other kind of loudspeaker when it comes to their uncannily realistic recreation of space, three-dimensionality, you-are-there midband presence, and large-scale and small-scale dynamics from top to bottom. Frankly, the other reaction that every single listener who's heard the 101 X-Tremes has had, once they get past the Xes' disappearing act, is: 'This is the most realistic stereo system I've ever heard.' It hurts me to say so, since I will never be able to afford them, but I have to agree."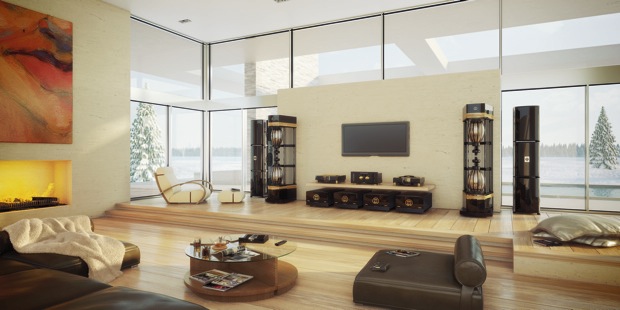 Photo Credit: mbl.de
Another consideration is your room size. MBL says the 101 X-treme need breathing space in order to be able to show off their fullest potential with minimal dampening required. They recommend a minimum 50 square meter (538 square foot) room, probably with at least a 10 foot ceiling. You can follow an installation in this AVguide forum thread archive which details the sheer size of the 3,000 lbs system. On the plus side, it's too heavy to steal.

Photo: MBL 101 E MKII, Credit: mbl.de
The entire MBL Reference experience can be yours for just under a half a million U.S. dollars. Remember you'll need $263,000 for the speakers, plus $166,600 or $212,000 for the MBL Reference amplifiers, although you could use (or try them out) with any audiophile-grade high-power amplifier.
For a little less money, it would be worth considering the X-treme's little brother, the MBL 101 E MK II, which are absolutely amazing. I heard them a few years back at CES (Consumer Electronics Show) in a demo room. They sounded like no other loudspeaker I had heard before — actually like live music. Most striking is how well they handle drums and cymbals with an airiness and quickness. Not enough lofty language can do them justice. You just have to hear them.
I did get to hear the 101 X-tremes at another CES as well, but was less impressed, as others were with that demo. Not sure why? However, word on the street says MBL provided a much better demo at the Munich Show and the reviewers are raving about the 101 X-tremes. Nonetheless, the MBL 101 X-treme speaker system promises to fulfill every audiophile fantasy.
MBL 101 X-treme Features
X-shape supporting structure ensures the stability of the speaker.
300-watt active subwoofer with two 12-inch aluminum drivers provide a smooth bass sound.
Aluminium bass drivers chosen after years of MBL experiments.
Carbonfiber tweeter and midrange ensure the well-balanced soundstage.
Radialstrahler technique provides 360-degree sound.
Four omni-directional mirror imaged speaker arrays with a single bass tower and integral amplifier.

Photo Credit: mbl.de
Specifications
Type: Four-way omnidirectional loudspeaker with separate subwoofer towers and ambience tweeter in four chassis
Drivers (per speaker side): Two Radial TT100 woofers, two Radial MT50/E midrange, two HT37/E Radial tweeters, one "ambience" dome tweeter, six 12″ aluminum cone subwoofers
Frequency response: 20Hz-40kHz
Sensitivity: 88dB/2.8V/2pi
SPL: 109dB
Power handling: 500W (continuous), 2200W (peak)
Speaker Dimensions WxHxD (cm): 49.6 x 185 x 64
Speaker Weight: 265 kgs (584 lbs) each
Subwoofer Tower Dimensions: WxHxD (cm): 41 x 186 x 67.5
Subwoofer Tower Weight: 226 kgs (498 lbs) each
Cabinet design: black, white, individual finishes (face veneer, multi-layer piano lacquer, silk gloss finishes, leather surfaces in many different colors)
Connectivity options for speaker unit: passive, one connection per three-way group
Connectivity options for subwoofer: active (cinch or XLR)
Warranty: 5 years
Article by Brian Mitchell, Founder & CEO, eCoustics.com
Warning
mbl of America (mbl-usa.com) is the illegal website of the former distributor of MBL products in the USA. They have not been the authorized distributor since 2010 and since then have no license to use any MBL intellectual property (including the very name of their corporation). They cannot speak for MBL. The official North American distributor for MBL of Germany is www.mbl-northamerica.com.
Correction: A previous version of this article stated the MBL speakers were on sale. They are not. The sale prices have been removed.
Related Reading
Is the Theory Audio 5.2.2 Home Theater System the best for under $20,000?