Zune offers unique one-stop shopping experience for the holidays.
Zune, Microsoft Corp.'s end-to-end music and entertainment service, today added 46 new designs from leading artists to its customization Web site, http://www.ZuneOriginals.net, for the holiday season. For those looking to customize a Zune player for themselves or as a personalized gift this holiday season, the new Zune Originals designs include a Zodiac Series featuring exclusive artwork of Eastern and Western astrology from Catalina Estrada and Iosefatu Sua. An expanded line of regular Zune players, popular Zune accessories and Zune Marketplace gift cards are also available for purchase through http://www.Zune.net just in time for the holidays.
"Zune Originals infuses pop culture, style and art into digital entertainment to help consumers turn their Zune into a personal statement," said Chris Stephenson, general manager of Global Marketing for Zune at Microsoft. "We're excited to add beautiful new designs from these incredible artists and to introduce them to a broader audience."
In the Zune Originals online design studio, consumers can customize a Zune by choosing artwork and adding personal text that is laser-etched on the Zune player they choose. Zune is refreshing its Zune Originals Artist Series, adding 12 new eye-catching designs from artists such as these:
Dalek. This graffiti artist works extensively in both fine arts and the skateboard industry.
Motomichi. A graphic designer, he is known for his widely exhibited animation and live video mixing.
Daniel Jackson. This artist and DJ from Surface to Air, the creative art collective made up of artists from Paris, Barcelona and New York, produces cutting-edge designs for everything from clothing to jewelry to skate decks.
In addition to the new Artist Series designs, Zune Originals is also introducing the Zodiac Series, its first themed collection of designs that features 12 Eastern (Chinese) astrology signs created by Iosefatu Sua, a recognized Seattle artist and member of the Zune internal design team who creates street art with a Polynesian flair, and 12 Western astrology signs created by Catalina Estrada, a Colombian artist best known for her use of symmetrical patterns and vibrant colors.
"Zune encouraged me to create designs for the Zodiac Series according to my own artistic interpretation of the signs. It's wonderful to work with a partner that supports self-expression, whether or not it's through a conventional art form," Estrada said. "Between my work and that of the other truly talented artists available in the Zune Originals collection, Zune users can create a player that is unique and meaningful to them."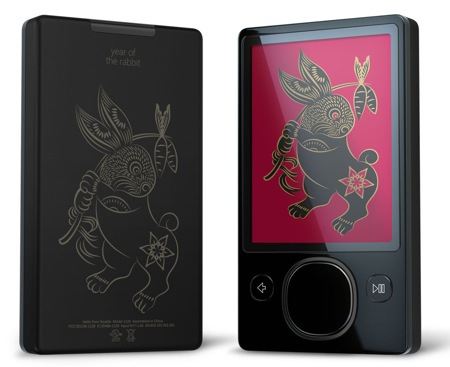 Other featured Zune Originals artists include Kenzo Minami, Alex Trochut, Alvaro Arteaga, Emil Kozak, Ippei Gyoubu, Kate Moross, Maya Hayuk, Siggi Eggertsson and Robin Nishio. Playlists from each artist that reflect his or her personal taste in music will also be available for download in the Zune Marketplace.
With the updates to the Zune.net Web site, popular Zune partner accessories such as speaker dock stereo systems from Altec Lansing, iHome and Kicker are available for purchase. The Zune Gears of War 2 Special Edition 120GB player as well as Zune Pass and Microsoft Points gift cards are also available for purchase. The Zune Pass gives subscribers access to millions of songs for $14.99 per month, while Microsoft Points can be redeemed in the Zune Marketplace to purchase songs and albums individually, as well as music videos or TV shows. Microsoft Points can also be used in the Xbox LIVE Marketplace.