Embracing the wave of the growing popularity of DSLR cameras, Zacuto introduces the Z-Finder V2, an optical viewfinder that allows DSLR cameras to have the correct form factor for video. Additional features of the Z-Finder includes: 3x focusable magnification, Schneider optics, a 40mm diameter lens, an adjustable (left or right) eye-cup preventing extraneous light leakage, and most importantly, a field of view perfectly matched to LCD screen sizes of many DSLR cameras such as: Canon 5DMKII, Canon 7D, Panasonic GH1, Nikon D300, Nikon D5000, and Pentex 7D. "This Z-finder is awesome. I am using it in Lima, Peru right now and am so glad I purchased it. I had a Hoodman but the quality of this is amazing and the eye cup is truly spectacular," says W. Ashley Maddox, DP/Director of Wam Pictures LTD.
Since the DSLR viewfinder is critical for precision focus on shallow depth-of-field cameras, Zacuto's product designers and engineers created an extremely fine focus wheel to achieve exact focus. Robert Primes, ASC agrees, "The Z-finder V2 is a magnificent upgrade and sharp as a tack across the whole image. The focus gearing was accurate, frictionless and backlash free." The Z-Finder can adjust to varying levels of vision correction with its diopter. It's essential for critical focus and some people will need to dial the Z-Finder focus wheel all the way in for Nearsightedness (Myopia) and fully out for Farsightedness (Hypermyopia). "My focus is 100% more precise with the Z-finder than without it," says Alain Pilon, Photographer & Videographer, "But it could have been even better if the camera LCD had more pixels. This is great because it means the Z-finder is future proof: its performance is going to improve as LCDs get better." The 6 oz. optical viewfinder is a DSLR filmmaker's best tool for creating precision focus and stability. "At the moment there is nothing that comes close to this," says Philip Bloom, Independent DP and Director, "It is absolutely essential for video on the 5DMkII. I couldn't shoot hand-held without it that's for sure. It has a 3x magnification making the image huge in your eye. Yes it is magnifying the pixels, but it still improves focusing a hell of a lot." Read additional user reviews and comments on Zacuto's Z-Finder.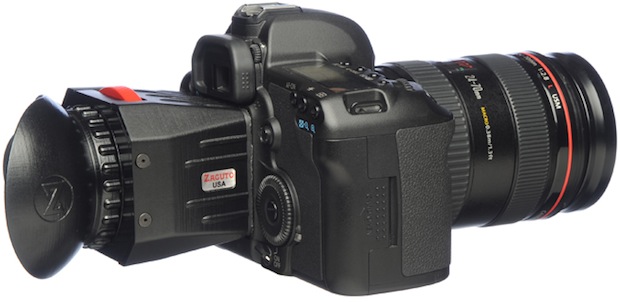 The Z-Finder V2 is unique in the way that it attaches to your camera. The Z-finder attaches to the LCD screen with a mounting frame. This is a snap fit frame that sticks to your LCD screen with a double sided adhesive. Once the frame sets for a couple of hours, the Z-finder can then be snapped on or off for quick viewing of the LCD screen or to get your eye in the actual viewfinder of the camera. "What I'm most impressed with is the ability to critically focus my still shots," says Jason Smith, Chicago Based Event Photographer. "I use a lot of wide-aperture Canon lenses that are hard to get tack-on focus. So I turn on live view, move the focusing spot right on the subject's eye and with the Z-finder's help, I'm able to confirm that the eyeball is super sharp."
Zacuto offers two additional add-on features for protection and safety. First, a lanyard gives you the option to attach a strap to the Z-Finder and thus, after a quick release of your viewfinder, you will be able to keep the finder around your neck for ease of re-attachment. Another protection is the Z-bands, which holds the Z-finder tight against the LCD screen and helps prevent it from getting knocked off. For more information on Zacuto's Z-Finder V2, additional benefits, and a very detailed step-by-step tutorial product video visit http://store.zacuto.com/Z-Finder.html The Z-Finder V2 is developed by Zacuto USA, the leading independent camera accessories maker in the professional market. Z-Finder is available at a Zacuto worldwide dealer.
Zacuto USA
Located in Chicago's River North neighborhood, Zacuto, originally a production equipment rental house formed in 2000 by a former Director Steve Weiss and DP Jens Bogehegn, whose combined film/video experience of over 50 years, quickly expanded into a producer of high-end production equipment. Designed for independent filmmakers, Zacuto made in the USA, brand of products, offer customized camera packages & products which come with a Life Time Guarantee and are shipped anywhere in the world.