High-Quality Systems Feature 1080p-compatible HDMI Inputs, HD Audio Decoding, iPod and Bluetooth Compatibility and Ease-of-Use
Yamaha Electronics Corporation, the innovator in home theater and digital audio and video reproduction, today introduced four new HTIB (home-theater-in-a-box) systems that include high-quality AV receivers and speakers. The new YHT-791 (MSRP: $849.95), YHT-591 (MSRP: $649.95), YHT-491 (MSRP: $549.95) and YHT-391 (MSRP: $399.95) systems make it quick and easy for virtually anyone to create a performance-oriented home theater with advanced capabilities and exceptional versatility.
Designed to offer those looking to create complete HD systems around Blu-ray players, broadcast HD services and gaming consoles, the top two systems, the YHT-791 (7.1 system) and YHT-591 (5.1 system) provide complete speaker packages and HD audio format decoding (Dolby TrueHD and DTS-HD MasterAudio; Dolby Digital Plus and DTS-HD High Resolution Audio).
Offering seamless operation with high AV performance, all systems feature Yamaha's SCENE modes, a series of four buttons that allow users to instantly ready the system for any entertainment experience by powering the unit, selecting the correct input and surround sound combination. All systems are compatible with iPods via the optional YDS-11 dock (MSRP: $99.95; included with the YHT-791) and Bluetooth devices via the Yamaha YBA-10 wireless audio receiver (MSRP: $129.95), two proprietary audio technologies, Compressed Music Enhancer to improve sound of "ripped" music files and Cinema DSP signal processing. Front panel mini-jacks make it easy to connect portable audio players.
Yamaha YHT-791 (check price)
The HD-ready YHT-791 system, featuring a 7.1-channel AV receiver (90W x 7), a 7-channel speaker package backed by a 100W powered subwoofer and four 1080p-compatible HMDI inputs, delivers movies, television and music with powerful presence and gripping dynamics. Advanced HD audio format decoding (Dolby TrueHD and DTS-HD MasterAudio; Dolby Digital Plus and DTS-HD High Resolution Audio), Burr-Brown 192 kHz/24-bit DACs for all channels, and a direct mode that bypasses non-essential internal circuitry, also make it a standout for HTiB systems at its price point.
The YHT-791 offers two-way satellite speakers reinforced by a 10-inch, 100-watt YST II subwoofer, faithfully rendering every sonic nuance, from subtle quiet passages to the most intense moments. In addition to its HDMI connectivity, the system delivers analog video upscaling to full HD 1080p and Auto Lip-Sync compensation to ensure the picture and sound match up perfectly without requiring the manual adjustment of complex settings. Yamaha's proprietary YPAO technology allows users to automatically set up their speakers for optimized sound. The YHT-791 comes with the Yamaha YDS-11 iPod dock for high quality audio playback from the portable devices through a home entertainment system.



Yamaha YHT-591 (check price)
The YHT-591 offers great HD-ready features and benefits in a 5.1-channel system, including a 5-channel AV receiver (105W x 5), three-way front and center bass reflex speakers, two-way surrounds and a 10-inch 100W advanced YST II subwoofer. This system also has four 1080p-compatible HDMI inputs, as well as a full array of HD audio decoders, representing great performance and value for home theater consumers. The YHT-591 also features YPAO for automatic speaker set up and sound optimization.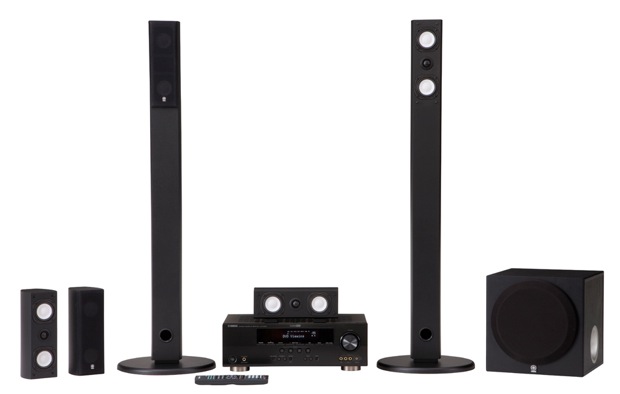 Yamaha YHT-491 (check price)
The YHT-491 features a 5-channel AV receiver (100W x 5), a pair of slim, powerful bass reflex tower speakers for the front left and right channels, a two-way acoustic suspension center speaker and two-way bass reflex surrounds, all acoustically matched for seamless sonic performance. An 8-inch, 100-watt subwoofer gives the YHT-491 the capability to deliver powerful home theater and music entertainment experiences. The system also features 1080p HDMI switching with two inputs and one
output.


Yamaha YHT-391 (check price)
Rounding out the new models, the entry-level YHT-391 includes a 5-channel AV receiver (100W x 5), along with five two-way acoustic suspension satellite speakers and an 8-inch, 100-watt subwoofer. The YHT-391 allows consumers to easily build a great home theater without breaking the bank.