USB Microphone Speakers with High-Quality Voice and Audio for Skype Users
,
PSG-01S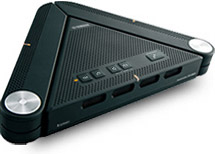 PJP-25URS
Yamaha Corporation (hereinafter Yamaha) has announced the development of SoundGadget PSG-01S and Projectphone PJP-25URS, both Skype-certified speakerphones with high-quality voice and audio. Yamaha plans to begin shipments in September 2009 to Europe and the United States.
PSG-01S is a personal speakerphone designed specially for Skype. Its high-quality microphones and speakers enable not only smooth simultaneous communication, but also clear audio recording and music playback via a PC. PJP-25URS is based on the high-quality web conference speakerphone "PJP-25UR", which has been tuned up for Skype and is intended for multiple users.
Yutaro Nakano, Director of Sales of Yamaha Sound Network Division, commented, "PSG-01S and PJP-25URS are embedded with audio-processing technologies, such as adaptive echo cancellers and noise-reduction functions, along with arrayed microphones and stereo speakers that will provide high audio quality and stability. This is our new proposition to corporate Skype users for business — the satisfying way of gaining comfortable, hands-free Skype communication without the use of a headset."
Principal Features of PSG-01S / PJP-25URS
High-Quality Echo Canceller
Built-in echo cancellers will completely prevent echoes and cut-offs, and provide smooth, simultaneous communication with comfort. The audio function is specially tuned for Skype communication, making it the ideal device for Skype.
USB Plug&Play + Bus Powered
Just plug it into the USB, and the Windows standard driver will run it automatically without the need for installing software, while supplying power without an AC adapter.
Skype Control Buttons
By installing this software, users can place or receive calls on Skype using the buttons on PSG-01S and PJP-25URS.
Wide-Band Stereo Playback
Despite the size, two embedded, high-efficiency speaker units with the all new surround formats are capable of providing powerful wide-band stereo audio.
Automatic Mode Switch (PSG-01S only)
Embedded acceleration sensors will detect the position of the unit and automatically switch the mode by itself. When the unit is positioned vertically, the unit is ready for Skype communication as a speakerphone. When it is placed horizontally, it is ready for music playback as a stereo speaker.