The Xantech MX88 IP-enabled multi-zone audio/video controller has been engineered to work with iPad. The MX88's integrated audio/video distribution and control combines a 50W x 16-channel/8-zone amplifier and highly efficient auto-sensing universal power supply with advanced automation control capable of up to 16-Serial ports with the use of Xantech's RS232 1×8 serial routers, and 17 selectable IR ports, as well as IP communication and two-way interface with an iPhone®, iPod® touch or iPad.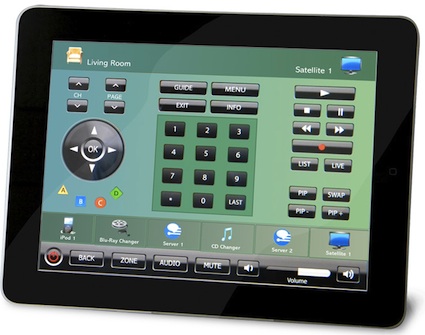 Xantech's iPad integration approach uses an existing WiFi network to interface the MX-series controller to the iPad (or any networked web-browsing device), serving up a web application embedded in the MX88's architecture. System control and status monitoring can all be accessed within a wired or wireless immediate LAN environment, or remotely over the Internet. Full metadata, menu navigation and even content graphics and album art are all transitioned from media source to the iPad through the Xantech audio/video controller itself. The MX88 is perfect for residential or commercial multi-zone control applications.
The MX88's engineering and design incorporate a wide range of technical improvements to make it a leader in the area of a more eco-friendly, ideal power consumption-versus-output ratio. The unit is built around an exceptionally intelligent and highly-efficient "greener" power supply with 100V-240V automatic voltage selection and advanced low-power consumption mode. On-board Intelligent Power Management circuitry provides positive external device control (through video and current sensing) over all 8 source input components connected to the unit, enabling the MX controller to manage the status of any of them — turning them OFF when not needed, for example. The controller's all-digital amplifier section is a model of conservation, operating at nearly three times the power and heat efficiency of conventional audiophile amplifier circuits while maintaining full fidelity.