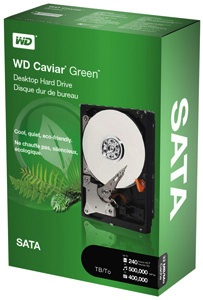 WD® today announced that the company is shipping the world's largest capacity SATA hard drive. As the latest addition to its WD Caviar® Green family of SATA hard drives, the new hard drives deliver up to a massive 3 terabytes (TB) of storage capacity on a single drive. WD is leading the industry in capacity for SATA hard drives by utilizing 750 GB-per-platter areal density and Advanced Format (AF) technology.
WD Caviar Green drives are an eco-friendly storage solution with WD GreenPower Technology, which reduces power consumption by enabling lower operating temperatures for increased reliability and decreases acoustical noise for quiet operation. The WD Caviar Green 2.5 TB and 3 TB hard drives are designed for use as secondary external storage and next-generation PC storage in 64-bit-based systems.
Drives with capacities in excess of 2.19 TB currently present barriers for PC hardware, firmware and software. To satisfy the new set of requirements of which users must be aware to successfully integrate larger capacity drives, WD is bundling its WD Caviar Green 2.5 and 3 TB hard drives with an Advanced Host Controller Interface (AHCI)-compliant Host Bus Adapter (HBA), which will enable the operating system to use a known driver with correct support for large capacity drives.
Price and Availability
Both drives are available now: